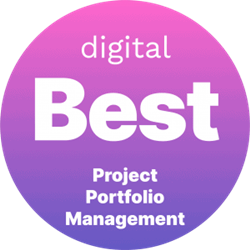 SEATTLE (PRWEB) February 07, 2021
Digital.com, a leading independent review website for small business online tools, products, and services, has announced the best project portfolio management software of 2021. The top systems were selected based on tracking features, collaboration tools, and integrations.
Experts at Digital.com evaluated programs with the capacity to track progress and status in relation to milestones, time, and expenses. Each solution was required to provide tools that enable data sharing, development, and analysis among team members. The study also examined systems that offer seamless integration with workflow, file storage and communication programs.
"Project portfolio management software is a valuable tool for teams that need to plan, organize, and manage multiple projects," says Josephine Miller, PR Manager of Digital.com. "This comprehensive guide outlines must-have features for small businesses and the top 15 solutions."
Digital.com's research team conducted a 40-hour assessment of over 140 solutions. To access the complete list of best project portfolio management software, please visit https://digital.com/project-portfolio-management-software/.
Best Project Portfolio Management Software of 2021
-Accelo
-Bubble Innovator
-BVDash
-Changepoint
-Clarizen
-Easy Projects
-GanttPRO
-LiquidPlanner
-Mavenlink
-monday.com
-Planview
-RationalPlan
-Sciforma
-Scoro
-WorkOtter
-Wrike
ABOUT DIGITAL.COM
Digital.com reviews and compares the best products, services, and software for running or growing a small business website or online shop. The platform collects twitter comments and uses sentiment analysis to score companies and their products. Digital.com was founded in 2015 and formerly known as Review Squirrel. To learn more, visit https://digital.com/.