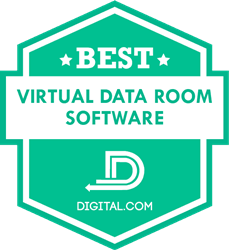 SEATTLE (PRWEB) December 22, 2020
Digital.com, a leading independent review website for small business online tools, products, and services, has announced the best virtual data room (VDR) software of 2021. The top solutions were selected based on several core features and customer feedback.
Each provider was required to offer data management tools, such as document indexing, document tracking, and collaboration functionality. Additional requirements include due diligence features, which allow legal or financial firms to share confidential data using view-only restrictions or version tracking functions. The final list highlights solutions with security measures such as encryption and multifactor authentication.
"VDR software is ideal for businesses that need to store and share sensitive data over the internet," says Josephine Miller, PR Manager of Digital.com. "Small businesses can use this online guide to get customer feedback and find the best solution for their needs."
Researchers at Digital.com conducted a 40-hour assessment of over 45 firms across the web. To access the complete list of best virtual data room software companies, please visit https://digital.com/virtual-data-room-software/.
Best Virtual Data Room Software of 2021

ABOUT DIGITAL.COM
Digital.com reviews and compares the best products, services, and software for running or growing a small business website or online shop. The platform collects twitter comments and uses sentiment analysis to score companies and their products. Digital.com was founded in 2015 and formerly known as Review Squirrel. To learn more, visit https://digital.com/.