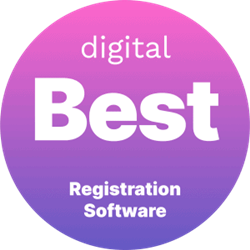 SEATTLE (PRWEB) March 01, 2021
Digital.com, a leading independent review website for small business online tools, products, and services, has announced the best registration software of 2021. Researchers assessed systems that provide core features as well as third-party integrations.
Top solutions were expected to offer tools that support attendance tracking, calendar management, and payment processing. The study also examined systems that cater to a broad range of off-line, online, or hybrid events, such as classes, sports activities, concerts, and conferences. Additional requirements include the capacity to manage vendors and venues through integration with CRM platforms, calendars, teleconferencing apps, and payment methods.
"Before purchasing registration software, it's important to know if it provides customized payment options, calendar management, or marketing tools," says Josephine Miller, PR Manager of Digital.com. "Our guide was developed to educate users about the best software options and key features."
Digital.com's research team conducted a 40-hour assessment of over 230 solutions. To access the complete list of best registration software, please visit https://digital.com/registration-software/.
Best Registration Software of 2021

ABOUT DIGITAL.COM
Digital.com reviews and compares the best products, services, and software for running or growing a small business website or online shop. The platform collects twitter comments and uses sentiment analysis to score companies and their products. Digital.com was founded in 2015 and formerly known as Review Squirrel. To learn more, visit https://digital.com/.