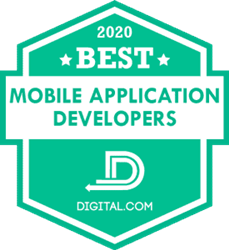 SEATTLE (PRWEB) August 18, 2020
Digital.com, a leading independent review website for small business online tools, products and services, has announced the best mobile application development companies of 2020. Each company was evaluated based on cross platform development accommodation, company size, and industry focus or experience. The comprehensive guide recognizes the top 15 companies from across the web and includes detailed reviews.
According to Digital.com, consumers are relying more and more on mobile devices for the bulk of their online activity, so the sophistication and appeal of an organization's app has become critical to success. The research team at Digital.com led a 40-hour evaluation of over 245 mobile application development firms. Companies that qualified for the final list were expected to offer multiple service lines and have a broad range of industry specific experience.
"Regardless of your business or industry, having a mobile app that meets your customer's needs is absolutely critical," says Erica Fagien, Chief Communications Officer of Digital.com. "With so many options available, finding the best mobile development firm with the most knowledge and understanding of your audience is essential to creating the perfect user experience."
To access the complete list of top conference call providers and detailed reviews, please visit https://digital.com/mobile-application-developers/
Top 15 VPN Services of 2020

Algoworks
Appinventiv
ArcTouch
Attract Group
Blue Label Labs
Chop Dawg
Dom & Tom
Hyperlink InfoSystem
Konstant Infosolutions
Magora
Mercury Development
Reinvently
TechAhead
WillowTree
Zco Corporation
ABOUT DIGITAL.COM
Digital.com reviews and compares the best products, services, and software for running or growing a small business website or online shop. The platform collects twitter comments and uses sentiment analysis to score companies and their products. Digital.com was founded in 2015 and formerly known as Review Squirrel. To learn more, visit https://digital.com/