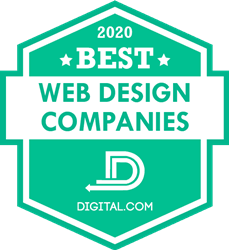 SEATTLE (PRWEB) August 25, 2020
Digital.com, a leading independent review website for small business online tools, products, and services, has released a list of the best web design companies of 2020. Service providers were selected based on multiple service lines, size of the firm, and industry focus. The guide identifies the top 19 companies from across the web with detailed reviews.
Experts at Digital.com conducted 40 hours of research and analyzed over 250 web design firms. Only companies offering a broad range of services to clients across various industries, such as manufacturing, real estate, and information technology, were considered for the final list. Design companies were also rated based on size and the ability to provide personalized attention or manage large complex projects. In addition to key features, the guide highlights customer feedback and pros and cons.
"All web design companies do not offer the same services, so it's important for businesses to identify those that provide basic design or additional services like branding or mobile development," says Erica Fagien, Chief Communications Officer of Digital.com. "This guide is a great tool to help narrow the search and hire the right team."
To access the complete list of top web design companies and detailed reviews, please visit https://digital.com/web-design-companies/.
Top 20 Web Design Companies of 2020

71Three
Bop Design
Bright Bright Great
Capital Numbers
DIGITECH Web Design
DirectLine Development
efelle creative
HMG Creative
Hudson Integrated
Legnd
Olive Street Design
PopArt Studio
Ruckus Marketing
Sayenko Design
ScienceSoft
SmartSites Digital Marketing Agency
Suffescom Solutions
The Creative Momentum
Thrive Internet Marketing Agency
UPQODE
ABOUT DIGITAL.COM
Digital.com reviews and compares the best products, services, and software for running or growing a small business website or online shop. The platform collects twitter comments and uses sentiment analysis to score companies and their products. Digital.com was founded in 2015 and formerly known as Review Squirrel. To learn more, visit https://digital.com/.