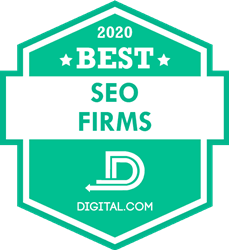 SEATTLE (PRWEB) September 10, 2020
Digital.com has announced the best Search Engine Optimization (SEO) companies of 2020. The top 20 companies were recommended based on service lines, size, and industry focus.
Researchers at Digital.com conducted a 40-hour assessment of over 250 SEO firms from across the web. Each company was required to meet several qualifications for the list. SEO experts with multiple service offerings, such as pay-per-click, web design, and public relations, can readily meet the demands of a growing business. Company size was also important to determine the ideal fit for clients in need of personalized services from a small team or affordable rates from a large firm. The final condition was the industry focus, which means top service providers have the experience to work with businesses in specific markets.
"The internet has changed how we do business, and the first interaction most customers have with a product or service happens online," says Erica Fagien, Chief Communications Officer at Digital.com. "As a result, SEO has become an integral process that not only increases visibility and drives traffic, but also builds the credibility of a brand."
Digital.com developed this online guide to increase awareness about the value of growing quality website traffic through SEO. To access the complete list of best SEO companies, please visit https://digital.com/seo-firms/
Top 20 SEO Companies of 2020
- Big Leap
- Boostability
- Coalition Technologies
- Digital Third Coast
- HigherVisibility
- Ignite Visibility
- IndeedSEO
- Infront Webwork
- Livepage
- Over the Top SEO
- PageTraffic
- PBJ Marketing
- SEO Brand
- SEO Image
- SEO Inc.
- SEOValley Solutions Pvt. Ltd.
- The SEO Works
- Thrive Internet Marketing Agency
- Victorious
- WebFX
ABOUT DIGITAL.COM
Digital.com reviews and compares the best products, services, and software for running or growing a small business website or online shop. The platform collects twitter comments and uses sentiment analysis to score companies and their products. Digital.com was founded in 2015 and formerly known as Review Squirrel. To learn more, visit https://digital.com/.