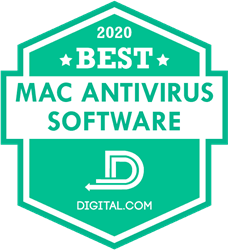 SEATTLE (PRWEB) November 10, 2020
Digital.com, a leading independent review website for small business online tools, products, and services, has announced the best Mac antivirus software of 2020. The top solutions were selected based on standard features and customer feedback.
Each company was required to offer strong firewalls, anti-theft, and anti-spam protection. The guide also examined additional features that increase productivity like hardware backups, content filtering, and screen time limits. The final list ranked solutions that can operate across multiple macOS systems and devices at the same time.
"Every small business or startup using Mac systems should invest in antivirus software that can effectively protect confidential customer and financial data," says Christelle Feniza, Communications Manager of Digital.com. "This accessible guide will help narrow the search and provide insight from other users."
Digital.com's research team conducted a 40-hour assessment of over 125 software companies from across the web. To access the complete list of best Mac antivirus software, please visit https://digital.com/antivirus-software/mac/.
Best Mac Antivirus Software of 2020

ABOUT DIGITAL.COM
Digital.com reviews and compares the best products, services, and software for running or growing a small business website or online shop. The platform collects twitter comments and uses sentiment analysis to score companies and their products. Digital.com was founded in 2015 and formerly known as Review Squirrel. To learn more, visit https://digital.com/.