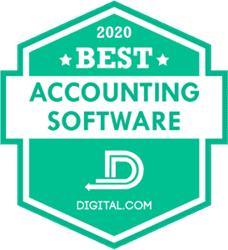 SEATTLE (PRWEB) October 12, 2020
Digital.com has announced the best accounting software of 2020. The top 15 solutions were selected based on three key features and customer feedback.
Research experts at Digital.com conducted a 40-hour assessment of over 130 software companies across the web. Each company was required to offer core accounting features such as tracking accounts payable and accounts receivable, fixed assets, and bank reconciliation. Other qualifications include automation for billing and invoicing as well as sales tax calculations, credit card payment processing, and balance sheet tracking. Solutions with additional features, like payroll processing, project-based billing, and inventory management, were given priority over others.
"Finding reliable solutions is crucial when it comes to managing financial data," says Christelle Feniza, Communications Manager of Digital.com. "Small business owners need to understand which accounting software will meet their needs, and this guide is a great starting point."
To access the complete list of best accounting software companies, please visit https://digital.com/accounting-software/.
Top 15 Accounting Software Companies of 2020

ABOUT DIGITAL.COM
Digital.com reviews and compares the best products, services, and software for running or growing a small business website or online shop. The platform collects twitter comments and uses sentiment analysis to score companies and their products. Digital.com was founded in 2015 and formerly known as Review Squirrel. To learn more, visit https://digital.com/.