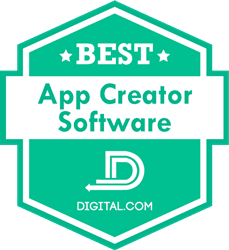 SEATTLE (PRWEB) January 04, 2021
Digital.com, a leading independent review website for small business online tools, products, and services, has announced the best app creator software companies of 2021. The top solutions were selected based on browser and device compatibility, integrations and plug-ins, and code expertise.
Each software company was required to provide increased browser and device compatibility, which ensures that more customers can access the app using any web browser or computer system. The study also examined solutions with the capacity to integrate additional features through plug-ins. The final list highlights software designed for users with no coding experience.
"The most important benefit of using app creator software is that it saves time and money on hiring high-level experts," says Christelle Feniza, Communications Manager of Digital.com. "Small businesses can access this free guide to find the best solutions and gain insight into the pros and cons, pricing, key features, and more."
Researchers at Digital.com conducted a 40-hour assessment of over 70 software solutions across the web. To access the complete list of best app creator software companies, please visit https://digital.com/app-creator-software/.
Best App Creator Software Companies of 2021

ABOUT DIGITAL.COM
Digital.com reviews and compares the best products, services, and software for running or growing a small business website or online shop. The platform collects twitter comments and uses sentiment analysis to score companies and their products. Digital.com was founded in 2015 and formerly known as Review Squirrel. To learn more, visit https://digital.com/.