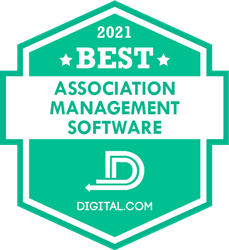 SEATTLE (PRWEB) January 03, 2021
Digital.com, a leading independent review website for small business online tools, products, and services, has announced the best association management software of 2021. The platforms were evaluated based on membership management tools, marketing features, and third-party integration.
Each software solution was required to offer tools that enable organizations to create member directories or update membership details. Another crucial function is email marketing, which enables users to set up email lists, manage subscriptions, and distribute marketing materials to potential members. Experts at Digital.com also assessed systems that can integrate additional software used to manage accounting, customer relationship management, or other processes.
"Organizations can save time, increase engagement, and maximize revenue with association management software," says Josephine Miller, PR Manager of Digital.com. "However, it's necessary to understand the most effective features to promote an association and manage members."
Digital.com's research team conducted a 40-hour assessment of over 120 solutions. To access the complete list of best association management software, please visit https://digital.com/association-management-software/.
Best Association Management Software of 2021
-AMO
-Aptify
-GrowthZone
-iMIS
-Join It
-MemberClicks
-MemberLeap
-MemberSuite
-Novi AMS
-Raklet
-SilkStart MultiChapter
-StarChapter
-Tendenci
-WebSuite2
-Wild Apricot
ABOUT DIGITAL.COM
Digital.com reviews and compares the best products, services, and software for running or growing a small business website or online shop. The platform collects twitter comments and uses sentiment analysis to score companies and their products. Digital.com was founded in 2015 and formerly known as Review Squirrel. To learn more, visit https://digital.com/.