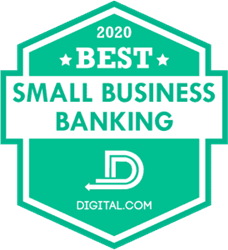 SEATTLE (PRWEB) November 18, 2020
Digital.com, a leading independent review website for small business online tools, products, and services, has announced the best banks for small businesses in 2020. The top financial institutions were evaluated based on key service offerings and customer feedback.
Each bank was required to maintain fee transparency by informing customers about costs associated with transactions such as withdrawals, cash deposits fees, and overdrawn accounts. The guide also examined minimum balance requirements, which means customers might be charged a fee or higher fee if the monthly account balance is below a specific amount. The final list ranked institutions that offer unlimited monthly transactions or relatively low fees for additional transactions per month.
"A bank account is essential for day to day business financial transactions, and it's also a smart way to gain access to loans and credit lines," says Josephine Miller, PR Manager of Digital.com. "This guide will help small business owners determine the best banking options for their organization."
Digital.com's research team conducted a 40-hour assessment of over 35 banks from across the web. To access the complete list of best banks, please visit https://digital.com/small-business-banking/.
Best Banks for Small Businesses in 2020

ABOUT DIGITAL.COM
Digital.com reviews and compares the best products, services, and software for running or growing a small business website or online shop. The platform collects twitter comments and uses sentiment analysis to score companies and their products. Digital.com was founded in 2015 and formerly known as Review Squirrel. To learn more, visit https://digital.com/.