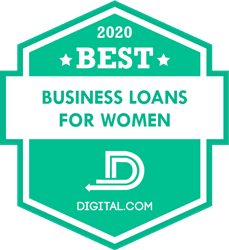 SEATTLE (PRWEB) December 01, 2020
Digital.com, a leading independent review website for small business online tools, products, and services, has announced the best business loans for women in 2020. Providers were evaluated based on the type of loan, transparency, and customer feedback.
Lenders were required to offer different types of loans, such as short term and line of credit options. The guide also examined lending programs that are transparent about loan features and help borrowers make informed decisions. The final list includes top lenders that provide clear and explicable information about interest rates, repayment terms, qualifications, and the loan process.
"Although women-owned businesses represent 42 percent of American businesses, many owners still find it difficult to get funding," says Josephine Miller, PR Manager of Digital.com. "This comprehensive guide can help women business owners navigate the most trusted lenders with upfront terms and flexible repayment options."
Digital.com's research team conducted a 40-hour assessment of over 20 providers from across the web. To access the complete list of best business loans for women, please visit https://digital.com/business-loans/women/.
Best Business Loans for Women in 2020
-Accion
-BlueVine
-CAN Capital
-Credibility Capital
-Fundation
-Fundbox
-Funding Circle
-Kabbage
-Kiva
-Lendio
-National Funding
-OnDeck
-SmartBiz Loans
-StreetShares
ABOUT DIGITAL.COM
Digital.com reviews and compares the best products, services, and software for running or growing a small business website or online shop. The platform collects twitter comments and uses sentiment analysis to score companies and their products. Digital.com was founded in 2015 and formerly known as Review Squirrel. To learn more, visit https://digital.com/.