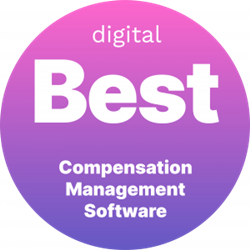 SEATTLE (PRWEB) October 18, 2021
Digital.com, a leading independent review website for small business online tools, products, and services, has announced the best compensation management software of 2021. The top solutions were selected based on three core criteria, including standard features and reporting capabilities.
The top systems include features like compensation plan modeling, compensation statements, and employee reward programs. Experts at Digital.com examined software that support integrations for a variety of tools commonly used for compensation management and other HR activities. Additional requirements include detailed reports to assess and improve performance.
"Employers can use compensation management software to plan and track salaries, reward programs, and other employee incentives," says Josephine Miller, PR Manager of Digital.com. "This guide is an effective tool for businesses that need to find the best solutions for their needs."
Digital.com's research team conducted a 40-hour assessment of over 80 companies from across the web. To access the complete list of best compensation management software, please visit https://www.digital.com/best-compensation-management-software/.
Best Compensation Management Software of 2021
Beqom Total Compensation Management
CaptivateIQ
Ceridian Dayforce
Compease
CompensationXL
Compport
CompTrak
Engagedly
HRsoft
Infor HCM
Oracle PeopleSoft
Paycom
Payfactors
PayScale Marketpay
Salary.com
SAP SuccessFactors
TalentComp
UKG Pro
Workday HCM
Xactly Objectives
ABOUT DIGITAL.COM
Digital.com reviews and compares the best products, services, and software for running or growing a small business website or online shop. The platform collects twitter comments and uses sentiment analysis to score companies and their products. Digital.com was founded in 2015 and formerly known as Review Squirrel. To learn more, visit https://digital.com/.