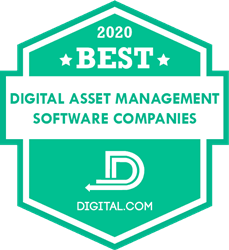 SEATTLE (PRWEB) December 01, 2020
Digital.com, a leading independent review website for small business online tools, products, and services, has announced the best digital asset management software of 2020. The top solutions were selected based on key features and customer feedback.
Software companies were required to offer optimal storage and organization for digital assets, including images, videos, PDF files, and other essential business content. Additional requirements include advanced search capabilities with keyword tagging, metadata, filtering, and automated features. Reporting and analytics were also key features to help measure performance and launch products faster.
"Digital asset management software can help small businesses increase productivity and maximize their return on investment," says Josephine Miller, PR Manager of Digital.com. "This review guide was developed to help businesses identify the most efficient systems and must-have features."
Digital.com's research team conducted a 40-hour assessment of over 70 solutions from across the web. To access the complete list of best digital asset management software, please visit https://digital.com/digital-asset-management-software/.
Best Digital Asset Management Software of 2020
-Asset Bank
-Bynder
-Cloudinary
-CoSchedule Asset Organizer
-Extensis Portfolio
-Image Relay
-iNEWS
-Intelligence Bank
-MediaBeacon
-MediaValet
-NUXEO
-Panopto
-pCLOUD
-Salsify Product Experience Management Platform
-Widen Collective
ABOUT DIGITAL.COM
Digital.com reviews and compares the best products, services, and software for running or growing a small business website or online shop. The platform collects twitter comments and uses sentiment analysis to score companies and their products. Digital.com was founded in 2015 and formerly known as Review Squirrel. To learn more, visit https://digital.com/.