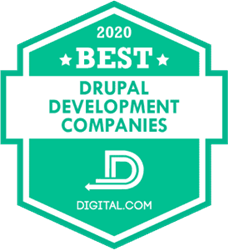 SEATTLE (PRWEB) November 24, 2020
Digital.com, a leading independent review website for small business online tools, products, and services, has announced the best Drupal development companies of 2020. The top firms were evaluated based on the size of the company, multiple service lines offered, and industry focus.
Each company was required to offer a variety of services, such as custom software development, web development, and mobile app development. The guide also examined company size to provide options for businesses that need to execute large projects or require personalized services. The final list ranked firms that cater to clients across multiple industries.
"Drupal is considered one of the best content management systems because it's customizable, mobile-friendly and scalable," says Josephine Miller, PR Manager of Digital.com. "A Drupal development company can offer ongoing support and expertise, and this guide is an effective way to find the most reliable firms."
Digital.com's research team conducted a 40-hour assessment of over 80 companies. To access the complete list of best Drupal development companies, please visit https://digital.com/drupal-development-companies/.
Best Drupal Development Companies of 2020
-Algoworks
-Alliance Interactive
-Auxesis Infotech
-Chromatic
-Digital Echidna
-Elevated Third
-ImageX
-Integral Vision
-Lullabot
-MAAN Softwares INC.
-Mercury Development
-SmartSites
-Specbee
-Unleashed Technologies
-Vardot
ABOUT DIGITAL.COM
Digital.com reviews and compares the best products, services, and software for running or growing a small business website or online shop. The platform collects twitter comments and uses sentiment analysis to score companies and their products. Digital.com was founded in 2015 and formerly known as Review Squirrel. To learn more, visit https://digital.com/.