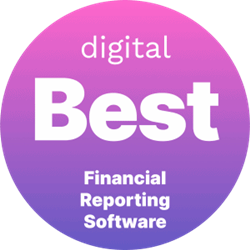 SEATTLE (PRWEB) March 01, 2021
Digital.com, a leading independent review website for small business online tools, products, and services, has announced the best financial reporting software of 2021. The top systems were selected based on three main criteria and customer feedback.
Each platform was expected to support tools that enable users to work more efficiently, such as balance sheet, general ledger, and consolidation/roll-up. The study also evaluated third party integrations with accounting apps, CRMs, and other platforms. Reporting functions are also essential for tracking financial data and making informed decisions.
"Many organizations use financial reporting software to automate time-consuming tasks and get real-time data insights," says Josephine Miller, PR Manager of Digital.com. "This guide was developed to help narrow the search and increase awareness about must-have features."
Digital.com's research team conducted a 40-hour assessment of over 70 solutions. To access the complete list of best financial reporting software, please visit https://digital.com/financial-reporting-software/.
Best Financial Reporting Software of 2021

ABOUT DIGITAL.COM
Digital.com reviews and compares the best products, services, and software for running or growing a small business website or online shop. The platform collects twitter comments and uses sentiment analysis to score companies and their products. Digital.com was founded in 2015 and formerly known as Review Squirrel. To learn more, visit https://digital.com/.