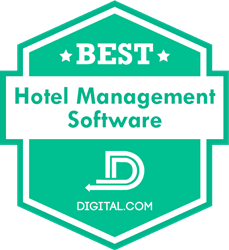 SEATTLE (PRWEB) January 03, 2021
Digital.com, a leading independent review website for small business online tools, products, and services, has announced the best hotel management software of 2021. The top solutions were evaluated based on GDS/OTA integration, guest experience features, and reporting capabilities.
Each software company was required to support integration with top OTAs and GDSs such as Expedia, Airbnb, Booking.com, TripAdvisor, Hostellers, and TripConnect. The study also examined solutions that automate daily operations and administrative tasks to help improve guest services. Additional qualifications include reporting tools that help hotel managers analyze tasks, performance, department budgets and more.
"Many properties, including boutique hotels, bed and breakfast and motels, use software to simplify day-to-day operations and maintain hotel standards," says Josephine Miller, PR Manager of Digital.com. "These in-depth reviews can help managers and owners discover the most efficient hotel management software."
Digital.com's research team conducted a 40-hour assessment of over 130 companies from across the web. To access the complete list of best hotel management software, please visit https://digital.com/hotel-management/.
Best Hotel Management Software of 2021

ABOUT DIGITAL.COM
Digital.com reviews and compares the best products, services, and software for running or growing a small business website or online shop. The platform collects twitter comments and uses sentiment analysis to score companies and their products. Digital.com was founded in 2015 and formerly known as Review Squirrel. To learn more, visit https://digital.com.