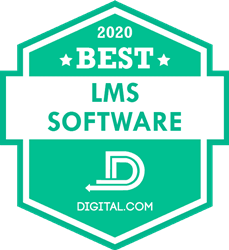 SEATTLE (PRWEB) October 16, 2020
Digital.com has named the best learning management system (LMS) software of 2020. The top-rated solutions were evaluated based on key features, which include multiple learning methodologies, SCROM compliance, and mobile learning compatibility.
Experts at Digital.com conducted a 40-hour assessment of over 140 LMS software companies across the web. Each company was required to offer diverse learning methods such as asynchronous, which does not restrict learners to a specific place or time. Additional requirements include mobile access to learning tools and a Shareable Content Object Reference Model (SCROM), which enables educational materials that are easy to share across systems and platforms.
"Small businesses can use LMS software for employee training or to offer paid courses," says Christelle Feniza, Communications Manager of Digital.com. "This shortlist of top solutions will help businesses narrow their search and find the most compatible system."
To access the complete list of best LMS software companies, please visit https://digital.com/lms-software/.
Top 20 LMS Software Companies of 2020

ABOUT DIGITAL.COM
Digital.com reviews and compares the best products, services, and software for running or growing a small business website or online shop. The platform collects twitter comments and uses sentiment analysis to score companies and their products. Digital.com was founded in 2015 and formerly known as Review Squirrel. To learn more, visit https://digital.com/.