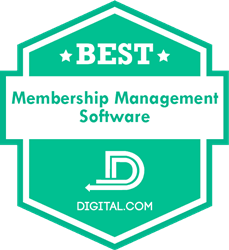 SEATTLE (PRWEB) January 04, 2021
Digital.com, a leading independent review website for small business online tools, products, and services, has announced the best membership management software companies of 2021. The platforms were selected based on core features and customer feedback.
Experts at Digital.com evaluated customizable and flexible systems that can meet the needs of various organizations and industries. The study also examined solutions that can integrate with popular apps and plug-ins. Additional qualifications include reporting tools to track member activity, revenue, and budget allocation.
"Whether it's a nonprofit organization or professional association, membership management software help users save time, manage events, collect payments faster, and communicate more effectively," says Christelle Feniza, Communications Manager of Digital.com. "This software guide offers expert reviews, key benefits, must-have features, and pricing."
Digital.com's research team conducted a 40-hour assessment of over 90 solutions. To access the complete list of best membership management software companies, please visit https://digital.com/membership-management-software/.
Best Membership Management Software Companies of 2021

ABOUT DIGITAL.COM
Digital.com reviews and compares the best products, services, and software for running or growing a small business website or online shop. The platform collects twitter comments and uses sentiment analysis to score companies and their products. Digital.com was founded in 2015 and formerly known as Review Squirrel. To learn more, visit https://digital.com/.