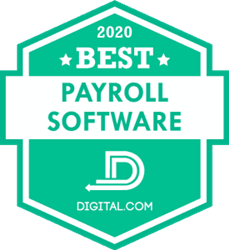 SEATTLE (PRWEB) October 14, 2020
Digital.com has announced the best payroll software of 2020. The top 20 solutions were selected based on basic payroll functions, reporting, and additional features.
Digital.com research team conducted a 40-hour assessment of over 210 payroll software companies across the web. Each company was required to offer essential functions such as calculating wages and taxes and tracking attendance. Other qualifications include the ability to generate advanced tax reports as well as common reports like salary analysis, pay type, and overtime. It was also necessary for payroll programs to offer additional features which enable automatic tax filing or tracking wage garnishments ordered by criminal and civil courts.
"Because there are legal obligations when it comes to processing payroll, it's critical business owners must have a reliable and efficient software solution," says Josephine Miller, PR Manager of Digital.com. "This online guide helps employers find the best payroll software for their needs."
To access the complete list of best payroll software companies, please visit https://digital.com/payroll-software/.
Top 20 Payroll Software Companies of 2020

ABOUT DIGITAL.COM
Digital.com reviews and compares the best products, services, and software for running or growing a small business website or online shop. The platform collects twitter comments and uses sentiment analysis to score companies and their products. Digital.com was founded in 2015 and formerly known as Review Squirrel. To learn more, visit https://digital.com/.