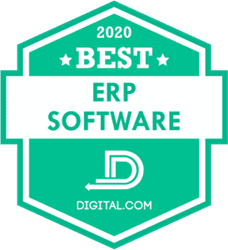 SEATTLE (PRWEB) November 10, 2020
Digital.com, a leading independent review website for small business online tools, products, and services, has announced the best enterprise resource planning (ERP) software of 2020. The top solutions were selected based on several core features, analytics capabilities, and onboarding support.
Researchers at Digital.com conducted a 40-hour assessment of over 60 ERP solutions across the web. Each firm was required to offer multiple functions such as inventory management, customer relationship management, and business intelligence. The guide also examined platforms that provide reporting tools and onboarding support to train teams and increase the user adoption rate.
"ERP software helps to improve efficiency by integrating all your business processes into a single system," says Christelle Feniza, Communications Manager of Digital.com. "Small to mid-sized businesses can use this guide to quickly identify the best solution for their organization."
To access the complete list of best ERP software companies, please visit https://digital.com/erp-software/.
15 Best ERP Software of 2020

ABOUT DIGITAL.COM
Digital.com reviews and compares the best products, services, and software for running or growing a small business website or online shop. The platform collects twitter comments and uses sentiment analysis to score companies and their products. Digital.com was founded in 2015 and formerly known as Review Squirrel. To learn more, visit https://digital.com/.