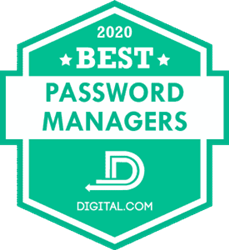 SEATTLE (PRWEB) October 13, 2020
Digital.com, a leading independent review website for small business online tools, products, and services, has announced the best password manager software of 2020. The top 20 solutions were selected based on several standard and advanced features. The in-depth guide also offers customer feedback, pricing, and advantages and disadvantages.
Experts at Digital.com conducted a 40-hour assessment of over 140 password manager software companies across the web. Each company was required to provide security tools with the highest level of encryption and compatibility across a wide range of devices. Additional requirements include unlimited storage, which is necessary for users with multiple accounts such as email, online banking, and streaming services. The study also focused on systems with enhanced features that enable teams or colleagues to share and manage passwords.
"Password manager software is a smart investment for small businesses," says Josephine Miller, PR Manager of Digital.com. "It's a valuable tool to help prevent identity theft and consequently saves time and money by reducing IT expenses and increasing employee productivity."
To access the complete list of best password manager software companies, please visit https://digital.com/password-managers/.
Top 20 Password Manager Software of 2020
-1Password
-Bitwarden
-Dashlane
-Enpass
-F-Secure
-Intuitive Password
-Kaspersky Password Manager
-KeePass
-KeePassXC
-Keeper
-LastPass
-LogMeOnce
-NordPass
-Password Boss
-RememBear
-RoboForm
-SplashID
-Sticky Password
-True Key
-Zoho Vault
ABOUT DIGITAL.COM
Digital.com reviews and compares the best products, services, and software for running or growing a small business website or online shop. The platform collects twitter comments and uses sentiment analysis to score companies and their products. Digital.com was founded in 2015 and formerly known as Review Squirrel. To learn more, visit https://digital.com/.