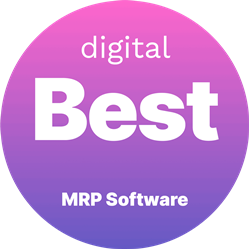 SEATTLE (PRWEB) January 22, 2021
Digital.com, a leading independent review website for small business online tools, products, and services, has announced the best materials requirement planning (MRP) software of 2021. The highly rated solutions were evaluated based on management tools, integration capabilities, and reporting features.
Each software solution was required to provide tools that can automate production schedules based on any given variables, increase production to meet demand, or profit from cheaper raw materials. It was also critical that these systems support integration with third-party software that extend the functionality of the MRP. Additional qualifications include reporting features that support multiple third-party reporting and analytic platforms.
"Manufacturing businesses use MRP software to manage inventory, customer orders, and quotes," says Christelle Feniza, Communications Manager of Digital.com. "This detailed guide was developed to help small businesses navigate the most reliable solutions on the market."
Digital.com's research team conducted a 40-hour assessment of over 100 solutions. To access the complete list of best MRP management software, please visit https://digital.com/mrp-software/.
Best MRP Software of 2021

ABOUT DIGITAL.COM
Digital.com reviews and compares the best products, services, and software for running or growing a small business website or online shop. The platform collects twitter comments and uses sentiment analysis to score companies and their products. Digital.com was founded in 2015 and formerly known as Review Squirrel. To learn more, visit https://digital.com/.