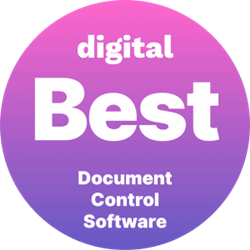 SEATTLE (PRWEB) February 23, 2021
Digital.com, a leading independent review website for small business online tools, products, and services, has announced the best document control software companies of 2021. The top systems were selected based on core features and reporting tools.
Each software company was expected to provide tools that can help reduce storage, guarantee compliance, and make collaboration easier among teams. The study examined solutions that offer support integration with popular apps and programs like Microsoft Office, flat file exchanges, and data storage feeds. The final list prioritized platforms with reporting capabilities to measure performance and track business goals.
"Many businesses use document control software to maintain proper records of legal and financial documents," says Christelle Feniza, Communications Manager of Digital.com. "This online guide was developed to help users find the most reliable systems to meet their needs."
Researchers at Digital.com conducted a 40-hour assessment of over 80 software solutions across the web. To access the complete list of best document control software, please visit https://digital.com/document-control-software/.
Best Document Control Software of 2021

ABOUT DIGITAL.COM
Digital.com reviews and compares the best products, services, and software for running or growing a small business website or online shop. The platform collects twitter comments and uses sentiment analysis to score companies and their products. Digital.com was founded in 2015 and formerly known as Review Squirrel. To learn more, visit https://digital.com/.