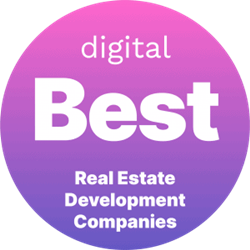 SEATTLE (PRWEB) February 03, 2021
Digital.com, a leading independent review website for small business online tools, products, and services, has announced the best real estate development companies of 2021. The top firms were selected based on multiple service lines, size of the firm, and industry focus.
All companies were expected to demonstrate service offerings to help clients understand capabilities and make the best turn-key investments. The study examined large firms that can handle bigger budgets and gain access to capital, as well as small firms with strong relationships in local markets. It was also critical for firms to offer expertise in specific industries, which generally increases their success rate.
"Real estate development companies can help design building structures, negotiate land deals, and even offer tenant management and property maintenance services," says Christelle Feniza, Communications Manager of Digital.com. "This guide was developed to help small businesses make informed decisions when choosing a firm."
Digital.com's research team conducted a 40-hour assessment of over 130 companies. To access the complete list of best real estate development companies, please visit https://digital.com/real-estate-development-companies/.
Best Real Estate Development Companies of 2021

ABOUT DIGITAL.COM
Digital.com reviews and compares the best products, services, and software for running or growing a small business website or online shop. The platform collects twitter comments and uses sentiment analysis to score companies and their products. Digital.com was founded in 2015 and formerly known as Review Squirrel. To learn more, visit https://digital.com/.