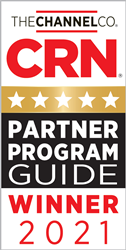 SAN ANTONIO (PRWEB) April 06, 2021
Digital Defense, by HelpSystems, a leader in vulnerability management and threat assessment solutions, is being acknowledged by CRN®, a brand of The Channel Company, in its 2021 Partner Program Guide. This annual guide is a conclusive list of the most distinguished partner programs from leading technology companies that provide products and services through the IT channel. The 5-Star rating is awarded to an elite group of companies that provide the most comprehensive lineup of incentives, training, services and benefits in their partner programs. This marks the third consecutive year that Digital Defense has received this honor.
Each year CRN develops its Partner Program Guide to provide the channel community with a detailed look at the partner programs offered by IT manufacturers, software developers, service companies, and distributors. Vendors are scored based on investments in program offerings, partner profitability, partner training, education and support, marketing programs and resources, sales support and communication.
The Digital Defense Partner Program provides MSP-specific enablement such as billing cycles that align to monthly recurring revenue (MRR) business models, self-provisioning capabilities and greater monetization, making it easier to sell the kind of product customers want to buy today. Over the last year, the company's average revenue per partner nearly tripled and its partner base expanded in North America, the United Kingdom and Latin America.
"Digital Defense has aligned with market shifts and partner feedback to develop a white label program that differentiates itself in the market. This agility has led to significant growth and partner satisfaction gains," said Mark Bell, managing director, Digital Defense, by HelpSystems. "We're honored to once again be recognized by CRN as it further validates our ongoing efforts to empower our partners. Whether it's an MSP, MSSP or MDR provider, we help them monetize more rapidly from the cloud and raise their brand, service offerings and proof of value to their clients."
"As innovation continues to fuel the speed and intricacy of technology, solution providers need partners that can keep up and support their developing business." said Blaine Raddon, CEO of The Channel Company. "CRN's 2021 Partner Program Guide gives insight into the strengths of each organization's program to recognize those that continually support and push positive change inside the IT channel."
The 2021 Partner Program Guide will be featured in the April 2021 issue of CRN and online at http://www.CRN.com/PPG.
For more information about Digital Defense's partner programs or to become a partner, visit: https://www.digitaldefense.com/partners/.
About Digital Defense, by HelpSystems:
Serving clients across numerous industries, Digital Defense's innovative and leading-edge technology helps organizations safeguard sensitive data and ease the burdens associated with information security. Frontline.Cloud, the original Security SaaS platform, delivers unparalleled accuracy and efficiencies through multiple systems including Frontline Vulnerability Manager (Frontline VM™), Frontline Web Application Scanning (Frontline WAS™), Frontline Active Threat Sweep (Frontline ATS™) and Frontline Pen Test™, while SecurED®, the company's security awareness training, promotes employees' security-minded behavior. The Digital Defense Frontline suite of solutions, underpinned by patented technology and complemented with superior service and support, are highly-regarded by industry experts, as illustrated by the company's designation as a 2021 Tag Cyber Distinguished Vendor, 2020 U.S. Department of Labor Platinum Medallion Award, a five-star review in SC Magazine and CRN 5-Star Partner Program rating.
Contact Digital Defense at 888-273-1412; visit http://www.digitaldefense.com, our blog, LinkedIn or follow @Digital_Defense on Twitter.
About The Channel Company
The Channel Company enables breakthrough IT channel performance with our dominant media, engaging events, expert consulting and education, and innovative marketing services and platforms. As the channel catalyst, we connect and empower technology suppliers, solution providers and end users. Backed by nearly 40 years of unequalled channel experience, we draw from our deep knowledge to envision innovative new solutions for ever-evolving challenges in the technology marketplace. http://www.thechannelcompany.com
© 2021. CRN is a registered trademark of The Channel Company, LLC. All rights reserved.