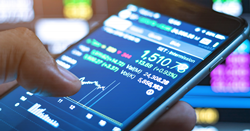 Financial literacy begins with understanding the need for growth of your assets in order to keep up with inflation.
FAIRFIELD, Conn. (PRWEB) August 03, 2020
The peaks and valleys of the stock market can be confusing to new investors during normal times but the current COVID-19 turmoil, with its up-and-down-swings, has left seasoned investment professionals scratching their heads.(1)(2) At the same time, the pandemic has highlighted the need for families and individuals to have long-term financial plans and a monetary safety net for unexpected events.(3) Real Intelligence CEO Jeff Mount says financial planning tools, such as the user-friendly Dynamic Mapping app, can help new investors get started, "The first step for someone who wishes to become an investor is to understand how much money they will need for each of life's major events in the future. The Dynamic Mapping app can quickly give any investor these calculations.
Digital financial tools can give households of all economic backgrounds access to investment knowledge and when this occurs, it's more than just the individuals and families who benefit from these tools. Financial inclusion, as a result of digital financial services, can lead to an overall economic boost within the local and global economy.(5) A study conducted by the International Monetary Fund found that when households had access to traditional financial services, economic growth increased, income inequality was reduced and it led to a higher GDP growth.(6)
Whether they use digital financial tools on their own or have the help of a wealth management advisor, technology can help potential investors see the challenges their investments will face. Additionally, it will help them determine the potential outcomes based upon how much they have set aside for investment savings.(4) In addition to helping families pay for major life events, saving and investing now, gives parents the opportunity—and the tools— to teach their children how to become financially literate, which can have positive benefits for generations to come.(7)(8)
"Financial literacy begins with understanding the need for growth of your assets in order to keep up with inflation," says Mount. "Stocks provide the greatest opportunity for growth over the long-term. Bonds are a way of generating income. There are thousands of strategies around how best to mix these two tools, but it is up to each investor to think like a fly fisherman. When you are fly fishing, you choose your tools based on the conditions around you—water temperature, lighting, the speed of water movement and the life cycle of the fly. To be a successful investor, you need to consider all of the external factors in your life."
Americans typically prefer investing in the stock market over other options, such as real estate, savings accounts, gold, or other precious metals.(9) But according to a recent Bankrate report, the stock market does not lead in preference by a wide margin. When asked how they would invest money not needed for a decade or more, 28% of Americans choose the stock market, 26% real estate, 18% cash investments—such as savings accounts or CDs, 14% gold and other precious metal and 4% bonds and bitcoin. Among those surveyed, 42% said they were planning to change their investment strategy due to the coronavirus pandemic—with 26% saying they would invest less aggressively and 16% planning to become more aggressive with their investment strategies.(10)
The right tools—like the Dynamic Mapping app—and information could be helpful to investors as they decide how to move forward with their future finances. Mount explains, "The 'A,B,C's' of financial planning include identifying the timing, funding, and strategic approach to each of life's major events. It is very important for investors to see how these life events line up in chronological order. Aging a portfolio can remove emotional challenges. Risk is taken at the point farthest away from the distribution date and the investor gradually reduces that risk as the distribution date nears. The benefit of this is that important life events will never be interrupted or delayed due to a market correction or crash."
About Real Intelligence LLC
Real Intelligence LLC is the brainchild of entrepreneurs and industry experts Jeffrey Mount and Mike Helgesen. With 55 combined years of industry expertise and the alliance of both their unique training programs: Dynamic Mapping and Essential Family Office—Real Intelligence LLC is poised to offer a complete essential tool kit to the next generation of elite Financial Advisors. With strategic, industry proven training, patented technology, and an unprecedented advocacy program, the paradigm of financial services is shifting from status-quo. This human-centered approach to financial planning is a consultant's greatest tool to combat the competitive threat of very low-cost programs through robo-advisers and the dangers of irrelevancy. To Learn more visit: http://www.realintelligence360.com
1. Rosenbaum, Eric, "Wealthy Americans have less doubt about market rally, economy, but still fear stock investing" CNBC, July 19,2020, cnbc.com/2020/07/19/why-the-wealthy-no-longer-doubt-rally-still-fear-stock-investing.html.
2. DeCambre, Mark, "Why stock-market strategists have never been more confused in June about the year-end outlook for equities" MarketWatch, June 20,2020, marketwatch.com/story/stock-market-strategists-have-never-been-more-confused-in-june-about-the-year-end-outlook-for-equities-by-this-measure-2020-06-30.
3. Shell, Adam, "Saving for retirement or a house? These are the top 10 long-term investing tips beginners need to know" USA Today, July 20,2020, usatoday.com/story/money/2020/07/20/long-term-investing-tips-beginners/5445223002.
4. Bock, Kathy, "Three ways the investment industry can set investors up for post-pandemic success" The Globe and Mail, July 22, 2020, theglobeandmail.com/investing/globe-advisor/advisor-news/article-three-ways-the-investment-industry-can-set-investors-up-for-post.
5. von Allmen, Ulric, Perva Khera, Sumiko Ogawa, and Ratna Sahay, "Digital Financial Inclusion in the Times of COVID-19" The International Monetary Fund, July 1, 2020, blogs.imf.org/2020/07/01/digital-financial-inclusion-in-the-times-of-covid-19.
6. Cihak, Martin and Ratna Sahay, "Finance and Inequality" International Monetary Fund, January 17, 2020, imf.org/en/Publications/Staff-Discussion-Notes/Issues/2020/01/16/Finance-and-Inequality-45129.
7. "Save Now: Tips to teach your children about money" St. Louis Dispatch, July 25, 2020, stltoday.com/suburban-journals/save-now-tips-to-teach-your-children-about-money/article_101377cd-6536-50e0-af75-50f1413bfa43.html.
8. O'Connell, Brian, "What Money Lessons Do You Teach Your Children?" The Street, July 7,2020, thestreet.com/mainstreet/news/financial-lessons-for-kids.
9. Weisbaum, Herb, "Americans like the stock market for their long-term investment money, survey shows" KOMO News, July 27, 2020, komonews.com/news/consumer/americans-like-the-stock-market-for-their-long-term-investment-money-survey-shows.
10. Royal, James, "Survey: Stocks are back as Americans' favorite way to invest" Bankrate, July 23, 2020, bankrate.com/investing/survey-favorite-long-term-investment-2020.-