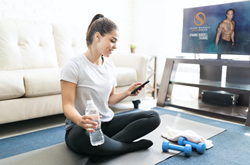 Consumers are driving the evolution of fitness. Streaming classes and content last year showed everyone that at-home fitness can also be a premium, calorie-burning, heart pumping experience too.
MINNEAPOLIS (PRWEB) March 04, 2021
Following 2020, a difficult year for fitness clubs across the country, FitnessOnDemand, a world leader in digital fitness content, says the streaming content trend isn't going away. In fact, appetite for ready made fitness classes and workouts from clubs and their members at home is so strong, the company is calling 2021, the Year of the Stream.
"Clubs, gyms and other fitness facilities did an amazing job of adapting to Covid-19 challenges in 2020 and they remain an essential driver of the fitness industry, but the model of how – and when – we all work out is evolving quickly," says Andrew Evenson, senior director, operations and brand strategy, FitnessOnDemand. "Consumers are driving the evolution of fitness. Streaming classes and content last year showed everyone that at-home fitness can also be a premium, calorie-burning, heart pumping experience too."
FitnessOnDemand reports on-demand digital fitness content and virtual wellness experiences have proved so popular that the company just streamed more than a million minutes of content including instructor-led classes, solo workouts and meditation content. Demand shows no sign of slowing so far in 2021, and Evenson points four additional key trends in 2021 for the fitness industry:
Clubs Go Hybrid
The cycle of clubs closing, opening and closing again due to Covid-19 restrictions is hopefully over for good, but many clubs in 2021 will continue to operate a hybrid model for member convenience: in-club, in-studio classes and at home, premium streamed content.
At Home and In Club Synchronization
There's a trend away from consumers looking for an occasional workout on YouTube to do at home and real interest in integrated content from clubs and gyms where members can follow the same class – and in some instance's instructor – at home and in the club.
Integration of Wearable Tech
More and more clubs will continue to integrate performance metrics from wearables like Fit bit and Apple Watch into class instruction: things like heart rate during reps or sets of exercises to keep workouts at peak performance calories burned and other data to keep participants engaged.
Fitness as Wellness
Working out will become increasingly about wellness and health. In other words, feeling good versus just looking good. One positive result of the pandemic will be a continued interest in healthy lifestyle that includes proactive exercise, mindful nutrition and a growing interest in things like meditation and mental health.
"The fitness space is moving quickly," adds Evenson. "We are seeing a coming together of several key trends: consumers that want to stay fit but also protect their health going forward, clubs that are adapting to a more fluid model to protect their businesses and deliver even better member service, and a gradual integration of fitness into health and wellness as a lifestyle priority. Expect to see exercise and specific fitness plans becoming even more integrated into personal healthcare in the coming year and beyond."
For more information on FitnessOnDemand visit: http://www.fitnessondemand247.com.
# # #
About FitnessOnDemand (http://www.fitnessondemand247.com)
FitnessOnDemand is a global leader in the collection, curation and provision of high-quality, premium digital fitness content from some of the world's leading names and experts in personalized fitness. The company is the only provider of Omnichannel content in the fitness industry, meaning customers can experience branded content via mobile app, smart device or in-club and in-room installation. FLEX by FitnessOnDemand enables clubs to offer their members the same, seamless library of fitness and wellness content anywhere in the club, at home or on the go. This allows operators to build member loyalty and brand-affinity beyond the club walls. FitnessOnDemand is a leading provider of digital fitness to many industries including health clubs, premium residential and business property developers and leading, luxury hotel chains. Content creators include Jillian Michaels, SH1FT, Sweat Factor, Zumba & Strong by Zumba and many more.