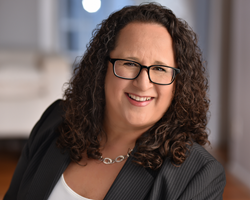 TAMPA, Fla. (PRWEB) March 07, 2019
Digital Hands, a leading managed security services provider (MSSP), announced today that veteran cyber security executive Myrna Soto has joined the company as Chief Operating Officer. Soto most recently was a Partner at ForgePoint Capital focusing exclusively on cyber security investments; however, she also recently served as Corporate SVP & Global CISO for Comcast Corporation, a telecommunications and media conglomerate, from 2009-2018. Soto will bring over 26 years of technology leadership experience including multiple operational roles across varied industries including roles at American Express, Royal Caribbean Cruise Lines, Kemper Insurance and MGM Resorts.
"Myrna's extensive background in cyber security, proven track record for scaling operations, and passion for building new and innovative offerings make her an ideal fit for leading the next evolution of growth at Digital Hands" said Charlotte Baker, CEO of Digital Hands. "Myrna will leverage the strong foundation we have built over the years while adding new talent to expand partnerships and catapult our security orchestration, automation, and response capabilities to deliver the highest value to our customers."
Effective immediately, Soto will assume responsibility for Security Operations, Sales, Marketing, Human Resources and Customer Success. In her new role, Soto will ensure operational excellence and the highest outcomes of value for customers while driving momentum in the execution of the company's long-term growth plans.
"I am extremely excited to be joining the company. Since getting to know Digital Hands over this past year, I have been impressed by their business model, the history of their strong partnerships and their track record of excellent execution. I see an incredible opportunity to continue to build upon the current business model, expand service offerings and increase the reach of the organization."
Soto was recently named to Fortune magazine's "50 Most Powerful Latinas in Business" in 2018 and 2017, has been recognized by SC Magazine among the "Top 10 Power Players for Women in Security", and is further acknowledged by the Hispanic IT Executive Council to be among the "Top 100 Technology Executives". In 2017 she was named Top Women to Watch by Diversity Journal Magazine, named to the Top 100 CISOs list by Hot Topics, and named to the Top 50 Women in Internet Security. She was recognized by Multi Channels News as a member of the 2017 "Wonder Woman" honoree class. She is a" Maestros" Awardee and has been named to Women's Inc Most Influential Corporate Directors (2018) and is recognized by Bold Business as one of the Top 25 leaders in CyberSecurity (2018). Most recently she was named as one of the World's Top IT Security Influencers by CISO Platform (Dec 2018).
Soto serves on the board of directors at CMS Energy/Consumers Energy, Spirit Airlines and Popular Inc. She has also served on the board and advisory councils of numerous early stage cyber security companies. She is recognized as a Governance and Board Leadership Fellow by the National Association of Corp Directors.
Soto will continue to serve as a Venture Advisor for ForgePoint Capital. "We believe this is both a great opportunity and a very logical progression of Myrna's career based on the depth of her experience in the industry and the impact she will have growing this business," said Don Dixon, Co-Founder ForgePoint Capital.
Soto holds a Bachelors degree from Florida International University and a M.S. degree and MBA from Nova Southeastern University. She also holds a Masters certification in program management from George Washington University and completed an Executive Women's Leadership Program from The Wharton School of Business at the University of Pennsylvania.
About Digital Hands
Digital Hands is an award-winning managed security service provider focused on providing world-class security operations to customers and partners. The company's adaptive security solutions are designed to easily integrate into customers' environments and processes while providing comprehensive protection against the latest security threats. More information about Digital Hands is available at http://www.digitalhands.com.
CONTACT:
James Brooks
Digital Hands
(813) 222-3036
jbrooks(at)digitalhands(dot)com