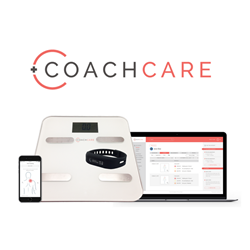 By monitoring a patient's lifestyle habits when they are away from the office, a physician can get a better grip on what is contributing to the patient's chronic pain issues
NEW YORK (PRWEB) September 05, 2018
CoachCare, a New York-based digital healthcare startup, is announcing their launch into the pain management market this week at the PAINWeek National Conference from September 4-8 in Las Vegas, Nevada. Currently powering several thousand health clinics with a weight management focus, the CoachCare digital healthcare solution will play a key role in allowing pain practitioners to improve patient care and increase clinic revenues, while providing both physicians and patients with valuable 24/ 7 insight into their programs.
CoachCare provides a custom-branded patient mobile app, clinical dashboard, and connected proprietary trackers and scales to help monitor a patient's unique protocol and progress. CoachCare technology can play an important role in monitoring specific issues related to pain management, including weight management, obesity and pain tracking and/ or trends.
"We launched into the chiropractic space last month and were met with serious excitement and interest in our new pain tracking feature," said CoachCare President, Wes Haydon. "We expect the same reaction from pain management practitioners who are looking for better ways to monitor and treat their patients away from the office while also improving their outcomes."
Specific benefits of digital healthcare technology like CoachCare for both pain practitioners and their patients include the ability to monitor personalized patient programs in real time, including 3-D pain tracking, pain levels and trends, weight fluctuations, nutrition, sleep habits and much more. In addition, physicians and patients can stay connected and engaged throughout their programs, and physicians can intervene when needed to offer encouragement or changes to patient programs.
"Pain and health go hand in hand," said CoachCare CEO, Andrew Zengilowski. "By monitoring a patient's lifestyle habits when they are away from the office, a physician can get a better grip on what is contributing to the patient's chronic pain issues and also improve and customize their program to help alleviate that pain more quickly and for longer periods of time."
Some upcoming CoachCare features pain practitioners should expect to see by the end of the year that can help improve their patient engagement and programs include video conferencing and a content library.
Physicians who would like more information on the advantages of digital healthcare technology for health clinics can download a free white paper here.
About CoachCare:
CoachCare helps health clinics across a number of specialties improve retention, referrals and revenue by encouraging 24/ 7patient-clinic engagement and simplifying daily complexities for both clinic and patient through a custom-branded mobile app, clinical dashboard, and connected proprietary scales and trackers. Request more info here.