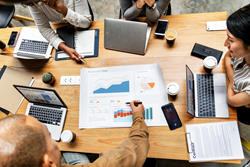 While there are companies that are currently using digital media effectively without a written plan, most likely they are missing opportunities for better targeting, engagement, or optimization
NEW YORK (PRWEB) January 14, 2019
Lounge Lizard is globally recognized as a top Digital Firm within the web design and development industry. Lounge Lizard's brandtenders are creative, tech-savvy, and passionate in developing innovative strategies that drive conversion for both startup and established clients of all industries, making them the "best of breed since 1998."
Digital marketing can seem overwhelming, especially for those new to the concept. Rather than trying various ideas and philosophies, such as launching a blog or social media channels and seeing what type of results that will provide, it is a much better idea to first take the time to craft a well-thought out digital marketing strategy.
To some the idea of writing out an entire strategy might seem daunting however it is important to understand that a strategy does not have to be a 20-page report or hour-long PowerPoint presentation. Strategies can be short and simple as well. While there are companies that are currently using digital media effectively without a written plan, most likely they are missing opportunities for better targeting, engagement, or optimization. Today NY based Digital Marketing Company, Lounge Lizard, shares 5 reasons to use a digital marketing strategy.

It provides a clear direction – Taking the time to create a complete digital marketing strategy is a similar concept to crafting a business plan; it helps provide a clear direction and focus for your activities. Surprisingly many businesses do not take the time to plan, discuss, and then write out an actual plan complete with goals and expectations for their marketing efforts. That is a lot like packing a sailboat with supplies and casting off without a destination, map, or checking the weather. A successful business relies on clear objectives so that resources can then be applied to reach those objectives with analytics used to determine the success or failure of those efforts followed by evaluation and adjustment to continually work towards those goals; not just sailing aimlessly hoping to see land.
Better understanding of a business's online marketplace – Part of any good strategy involves research which is a critical component in learning and understanding more about a business's position within the marketplace. What is the customer demand for a particular product or service? What types of customer profiles relate to a specific niche? What behavior, channels, and propositions will work best for those customer profiles? There are a host of digital marketing tools that can help a business discover the level of demand, check the intent of searchers based on keywords, or find out how many people are interested in products or services such as Google's keyword planner or Facebook IQ. This then allows for a more focused approach to meeting goals.
It will result in a better ROI – The lack of a clear plan and focus can result in wasted time, money being spent on activities that won't produce results for a specific goal, or even misused time and resources due to duplication of tasks by different people or departments. A strong digital marketing plan outlines all of the marketing actions, which position or departments are responsible for specific function, and reporting of activities and results to other departments. By reducing wasted actions and redundancy the return on investment of marketing efforts will be better.
Provides deeper understanding of online customers – While analytics are very useful in discovering keyword usage, volume of visits, or where visits originated, they won't help you learn more about customers intent, needs, or what they might think of a particular business. A good marketing strategy incorporates tools such as surveys and other user feedback options to learn more about customers and identifying weak points in a business which then allows those aspects to be addressed and corrected to better meet the wants and needs of customers.
It allows a business to keep pace or pass the competition – The fact of the matter is that some businesses do have a clear business plan as well as a digital marketing plan in place which they are executing to improve their market share. Those businesses not following a strong plan without clearly defined goals and strategies risk falling behind and losing market share. Playing catch-up typically ends up being more expensive and labor intensive compared to sustaining and increasing a market share over both existing and new competitors.
Lounge Lizard is an award-winning, high-end design boutique specializing in website and mobile app development, social media agency, UX/UI, branding, and marketing. Lounge Lizard excels in creating the ultimate brand strategy, fully loaded with expertly crafted visuals that work together to increase sales and effectively communicate a client's unique personality.
Media Contact: Ken Braun, Lounge Lizard, 631-581-1000, ken.braun(at)loungelizard.com