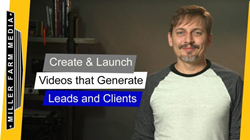 We have simplified the entire video production process by presenting video production subscription plans that are easy to understand and transparent. It is an affordable way to produce more video content and drive sales. - Jayson Duncan, Chief Storyteller from Miller Farm Media
IRVINE, Calif. (PRWEB) November 09, 2021
Miller Farm Media, a video production company in Orange County, is happy to announce the launch of a new video production subscription services. It is an all-inclusive, subscription-based service with a flexible upgrade model, addressing the increasing need for companies to create a series of videos throughout the year and across the sales funnel. The video subscription service offers a stress free video production solution in a cost-efficient and scalable turnkey package—combining monthly content strategy sessions, scriptwriting, weekly progress update, recording, professional editing, and so much more.
Brands and companies around the nation and in Orange County are using more video than ever for digital marketing, social media, and internal or training purposes. However, video is the most complicated, expensive, and time-consuming content to create. This is why Miller Farm Media decided to offer its video production subscription services.
From video marketing strategy, scriptwriting, recording, editing, marketing campaigns and more, the video production services company provides all the tools a brand needs to manage its video marketing campaigns. With their video subscription services, brands and businesses will have access to an entire team of video production experts for less than the price of a full time employee.
According to Jayson Duncan, a Chief Storyteller from Miller Farm Media, "We have simplified the entire video production process by presenting video production subscription plans that are easy to understand and transparent. It is an affordable way to produce more video content and drive sales."
Brands will receive numerous benefits from these video subscription services. For instance, they will get the lowest cost for professional video production. Businesses will also work hand in hand with a team of talented writers, producers, cinematographers and editors to bring their vision to life.
Interested brands can save fifty percent on their video production costs with Miller Farm Media's video production subscription services. The company is offering a range of plans under three umbrellas—12 Recording Days Per Year, 18 Recording Days Per Year and 24 Recording Days Per Year—which are available nationwide and can be customized or upgraded at any time.
The video production company is dedicated to offering end-to-end service that provides improved value to its subscribers through next practices not just what is best but looking ahead and helping clients stay ahead of their competitors its lifecycle—with new product functionalities and services continuously added.
The video production subscription services are available in Southern California and nationwide
About Miller Farm Media
Miller Farm Media is a digital marketing company located in Irvine, California. They are composed of filmmakers who understand the power of stories and visuals. Whether a customer needs a TV commercial, product video, training video, or event video, Miller Farm Media can help.
To learn more about Miller Farm Media's newest video subscription services, call Jayson Duncan at 949-288-3061 or send him an email at jayson@millerfarmmedia.com. Check out their official website at https://millerfarmmedia.com/service/video-production-subscription/ to learn more and view pricing. You can also see the other services they offer.