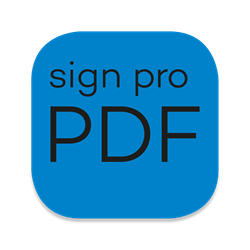 there is a high demand to replace pen-and-paper signatures with digital alternatives in the market, but also concerns about the security and complexity of such solutions
PORTLAND, Ore. (PRWEB) July 21, 2020
With its sign pro PDF software family, Wacom has been providing a professional and secure solution for adding handwritten signatures and text to digital documents for years – eliminating the need to print, scan and send paper documents. With the new 4.1 version, the sign pro PDF app extends user options with features such as form-filling with handwriting recognition, form authoring, ISO signature support and signature encryption.
In addition to powerful new features for the app, Version 4.1 of Wacom's sign pro PDF software family also includes a straightforward API (Application Programming Interface) that enables organizations to integrate handwritten eSignatures into their digital workflows, suitable for on-premise or cloud-based systems. Both the app and the API enable organizations to take a significant step towards completely digital workflows without analogue breaks – and to make them function in a natural and familiar way under the current circumstances where working from remote has become a reality for millions of employees.
"Digital workflows play a significant role in increasing process efficiency and enable companies to offer added-value services," says Peter Sommer, Senior Vice President of Wacom for Business. "We know that there is a high demand to replace pen-and-paper signatures with digital alternatives in the market, but also concerns about the security and complexity of such solutions. That is why, with our new app and API, we attached great importance to delivering a secure and easy-to-integrate way of achieving a 100% digital signature process."
sign pro PDF captures handwritten electronic signatures using any Wacom signature pad as well as compatible pen-enabled Windows devices. For the user, the experience is just as comfortable, natural, and meaningful as signing with pen and paper. And for the workflow owner, the process is quick and easy. At the same time, biometric accuracy and built-in encryption for the signature as it is created protect the security of the system and ensure that each signature is legally binding. Additionally, in the newest version 4.1, both the app and the API offer full ISO signature support.
Handwritten eSignatures – in-person and remote
Signing contracts, documenting work, confirming decisions, or securing legal consent – there are a plethora of scenarios where signatures are needed to start, continue, or finish a process. For customer-facing workflows, sign pro PDF provides a programmatic way for organizations to add handwritten electronic signatures to their existing workflows with minimal effort. This is particularly relevant for branches like financial services, healthcare, tourism, hospitality, and government.
Additionally, modern workflows often require people to sign documents remotely, whether they are working from home or just in a different office location. The sign pro PDF software family provides a straightforward way to add handwritten signatures to digital documents using a pen-enabled device and the standalone sign pro PDF App. As a result, employees can continue signing off on decisions and contracts remotely, without the hassle and expense of managing paper, or changing familiar workflows. This also provides an option to replace click-to-sign solutions when signing ceremonies are important.
About Wacom
Founded in 1983, Wacom is a global company based in Japan with subsidiaries and affiliate offices around the world to support marketing and distribution in over 150 countries. Wacom's vision to bring people and technology closer together through natural interface technologies has made it the world's leading manufacturer of interactive pen tablets and displays as well as of digital styli and solutions for saving and processing handwritten electronic signatures. The advanced technology of Wacom's intuitive input devices has been used to create some of the most exciting digital art, films, special effects, fashion and designs around the world and provides business and home users with their leading interface technology to express their personality. For further information about the products of Wacom see also https://www.wacom.com/for-business
The digital Press Kit including factsheets and images can be downloaded here: Wacom sign pro PDF