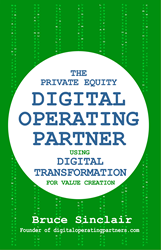 Digital transformation is leading to structural changes in all industries, and associated with any such changes are investment opportunities. Not just by betting on smart companies, but by buying companies and making them smart.
SAN FRANCISCO (PRWEB) December 02, 2020
The book, The Private Equity Digital Operating Partner: Using Digital Transformation for Value Creation, has been published and is now available online and in bookstores. Although many in private equity consider technology to be synonymous with IT, the book asserts that to create meaningful enterprise value, high technology, like the internet of things and AI, is foundational to any digital transformation.
The book explains that when done properly, digital transformation increases cashflow by increasing market share and market size through innovation and invention, and by expanding margins through operational efficiency. It can also ratchet up the valuation multiple through a digital rerate - using high tech to facilitate new business models and other novel and disruptive strategies.
The Private Equity Digital Operating Partner was written by Bruce Sinclair, a business consultant and ex-CEO whose 30-year career has spanned high technology, business and investment. Since 2015 he has advised companies on how to use digital transformation to create enterprise value – first as an independent consultant and then as an operating partner for a middle-market private equity firm.
Bruce previously wrote the best-selling digital transformation book, IoT Inc, published by McGraw-Hill in 2017, and has certified hundreds of professionals with his ICIP program and thousands more with his LinkedIn Learning courses. His students work in industry and at all the leading consulting firms including, Accenture, Bain, BCG, Capgemini, Cognizant, Deloitte, IBM, McKinsey, PwC and Tata.
"Becoming digital enables traditional, non-tech companies to profit from using the same asset-light value creation playbooks used by today's most valuable tech companies," said Bruce Sinclair, Founder and Principle Consultant of DIGITAL OPERATING PARTNERS. "True digital transformation is a new way for PE operating teams to create meaningful value for their portfolio companies and to differentiate themselves."
The book can be found at, https://www.amazon.com/dp/0578799537.
For more information and to read select book chapters visit, digitaloperatingpartners.com or email, info@digitaloperatingpartners.com.
About DIGITAL OPERATING PARTNERS
DIGITAL OPERATING PARTNERS provides digital transformation services to private equity by using its deep functional expertise and proprietary value discovery process to identify untapped value in portfolio companies invisible to other value creation methods. The firm engages mostly with growth and buyout firms during sourcing, diligence, ownership and exit, with services that include, portfolio ranking, company grading, thesis support, digital review, strategic planning, product validation, workstream execution and exit planning.