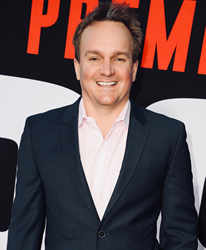 Chris Fenton, former President of DMG Entertainment Motion Picture Group & General Manager of DMG North America has agreed to join Montreal-based digital video powerhouse WatchMojo
LOS ANGELES, NEW YORK, and MONTREAL (PRWEB) September 13, 2018
Chris Fenton, former President of DMG Entertainment Motion Picture Group & General Manager of DMG North America has agreed to join Montreal-based digital video powerhouse WatchMojo as advisor effective immediately, it was announced today by WatchMojo's CEO and founder, Ashkan Karbasfrooshan. In addition Karbasfrooshan announced that WatchMojo will now be represented and advised by ICM Partners' Chris Silbermann as WatchMojo seeks to accelerate its growth and financing strategies in media and entertainment.
Fenton, a career veteran in the global entertainment and brand space, helped build the boutique advertising agency, DMG, into a multi-billion-dollar, publicly traded global entertainment & media company, headquartered in Beijing and Beverly Hills, over a 17-year tenure. Fenton supervised the development, financing, production, marketing, and distribution of DMG's globally-focused entertainment content, and assembled and managed DMG's vast library of intellectual property and brand partnerships. Fenton has produced or supervised twenty films ranging from big budget franchises (IRON MAN 3, POINT BREAK, and 47 RONIN), to more niche-oriented films (LOOPER, WAITING, BLOCKERS and CHAPPAQUIDDICK), which have grossed $2 billion in worldwide box-office.
"As we round out our executive team, we are excited to welcome an experienced leader and proven executive as an advisor, along with the senior counsel of ICM. Chris Fenton's experience in buying and building global entertainment businesses is critical as we chart the next chapter for WatchMojo." — Ashkan Karbasfrooshan
"In less than a decade, Ash built an innovative global digital content creator into one of the most profitable businesses in the digital media and web video landscape. It's an honor to help WatchMojo expand both its YouTube footprint and other global distribution platforms while also forging strategic partnerships and business initiatives that greatly enhance scalability and profits." — Chris Fenton
Since launching its first YouTube channel just over ten years ago, WatchMojo has built one of the biggest audiences on the platform with over 25 million subscribers and 115 million monthly unique views. The company has become synonymous with pop culture Top 10 lists, with over 70% of its audiences consisting of male millennials who rack up 300 million video views and nearly 2 billion minutes of watch time each month on YouTube. The privately-held company has shunned venture capital and grown organically at a time when media companies have scrambled for funding as they pivot to video. WatchMojo's pure play video model has produced over 19,000 original videos for YouTube and other social platforms, making it one of the few profitable players in digital video.
About WatchMojo
One of the most successful media brands ever built on YouTube, over the past decade WatchMojo's 25+ million subscribers have spent 60+ billion minutes watching over 19,000 original videos on pop culture and infotainment. WatchMojo owns and operates one of the twenty largest YouTube channels of all time, whose Top 10 lists have become a pop culture phenomenon, generating over a billion minutes of organic engagement each month and over 12 billion all-time views. The company now counts 75+ full-time employees in Montreal, New York City, Los Angeles, and London and maintains 35 wholly-owned channels on YouTube, along with rapidly growing audiences on Twitter, Facebook and Snapchat.