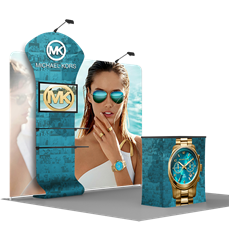 Display Solution provides high-quality, affordable trade show solutions to meet every single customer's budget and marketing needs.
VAUGHAN, Ontario (PRWEB) December 12, 2018
Digital Xpressions is pleased to announce the launch of Display Solution, a one-stop shop for custom-made trade show displays and event marketing products.
From trade show booths to custom printed canopy tents, custom inflatable tents, custom flags, hanging banners and signs, banner stands and custom trade show table covers, Display Solution aims to simplify the process of creating tailored trade show products for the needs of Canadian customers.
The process to follow is simple and straightforward, ensuring usability and an engaging customer experience. Display Solution clients pick the product they're interested in, submit their artwork and wait for designer approval. Upon the completion of the process, a final proof is sent for customer acceptance before the printing begins. Display Solution also offers dedicated design services and works closely with customers to develop tradeshow products that fully meet their needs.
High-Quality, Affordable Trade Show Display Solutions
"We believe that a simple, practical and modern online platform is needed to give our clients convenience and access to a wide range of trade show solutions," Digital Xpressions Founder and CEO Bhavesh Rathod said. "Display Solution provides high-quality, affordable trade show solutions to meet every single customer's budget and marketing needs."
Digital Xpressions' own branded trade show displays are available for purchase in the Display Solution Online Store. The company is constantly researching new products and regularly expanding its portfolio with new display solutions, after thorough market analysis, manufacturing and testing before launch, Rathod added.
Products in the Display Solution store are organized conveniently – customers can access the category of interest from the homepage or the respective category menu. Anyone in need of assistance for the crafting of their trade show displays can employ online assistance or contact the customer service team by phone or email.
Personalized and Reliable Service
While trade shows provide opportunities, they also pose a range of challenges. Some of the key issues that presenters and exhibitors struggle with include insufficient time for preparation, lacking an overall concept guiding the creation of display materials, high costs and intense competition.
Online platforms like Display Solution eliminate some of these challenges. Through the website, clients get access to a speedy and reliable service. It also reduces the cost of producing quality trade show materials that will stand out.
Display Solution is live and clients can already explore the product portfolio – from personalized tradeshow booth displays to hanging signs, advertising flags, custom table covers, and many more.
About Digital Xpressions
Based in Vaughan, Greater Toronto Area, Ontario, Digital Xpressions is a print, design and manufacturer of trade show displays. Established back in 2006, it aims to simplify the process of delivering complex services to a wide array of business-to-business and corporate clients. Over the 12 years of its existence, Digital Xpressions has served more than 4,000 clients in the U.S. and Canada.
The company ensures the provision of comprehensive solutions that can strengthen the brand and reputation of its customers. Some of the available services include branding strategy creation, graphic design, logo design, large format printing, the creation of custom trade show booth design and displays.
For more information, please visit http://digitalxpressions.ca or the newly launched https://DisplaySolution.ca