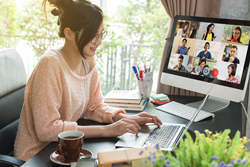 "Companies are facing a new normal and many organizations have been caught by surprise.", Ed Pope
SAN ANTONIO (PRWEB) July 01, 2020
DigitalGenetix, a technology company that specializes in digital transformation for small, medium, and enterprise-level businesses, announces a specially discounted package of digital services tailored for businesses who have been negatively impacted by the COVID-19 health crisis. With the new Digital Small Business Bundle from DigitalGenetix, businesses who ordinarily could not afford an IT department or specialist will be able to receive DigitalGenetix' best-in-class managed services at a new affordable price. The special DigitalGenetix bundle includes Microsoft 365 cloud-based software, a domain name, a starter website, and an Elevate phone system, all beginning at $129.95 per month.
"COVID-19 has had a terrible impact on businesses and the economy across the country, forcing business owners to cut back on costs while still maintaining their operations," said Ed Pope, President at DigitalGenetix. "At DigitalGenetix, we are proud to offer small and medium businesses our new Digital Small Business Bundle."
The bundle includes discounted services for:

Microsoft 365 Business Standard: Microsoft Word, Outlook, Excel, Teams, OneDrive and more
DGNX Elevate: Local Phone Number, Free Desktop Phone, Web Conferencing, Voicemail, Webinar Broadcast Capabilities, and much more.
DGNX Automate: IT Asset Tracking, Remote User Support, Anti-Virus Software, Server Management and more.
Quantum 360 Website: The DigitalGenetix standard web package includes: a standard domain name, homepage, about us page, plus 2 additional web pages.
Headquartered in San Antonio, Texas and with offices across the country, DigitalGenetix delivers digital solutions that help optimize productivity and improve customer experiences for businesses of all sizes. DigitalGenetix is an end-to-end technology firm that provides managed services, IT staffing, network infrastructure, remote computing, telecom, and cloud services.
"Companies are facing a new normal and many organizations have been caught by surprise. We are working to help companies adapt and succeed during COVID-19," continued Pope.
For more information, visit http://www.digitalgenetix.com or call 210.468.0123