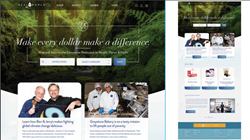 Michele Bongiovanni, CEO, HealRWorld, stated that she is motivated by her "desire to promote conscious capitalism and access to businesses dedicated to People, Planet and Profit. Our global platform will enable consumers to vote with their dollars!"
Washington, DC (PRWEB) April 26, 2017
The International Council for Small Business (ICSB), a non-profit devoted to the advancement of entrepreneurs, will launch a joint initiative with HealRWorld, a for-profit social impact company, that leverages its big data platform to equip Micro, Small and Medium-Sized Enterprises (MSME's) with cutting edge solutions that will promote the growth of sustainable business and advance the UN Sustainable Development Goals aimed at ending poverty and promoting prosperity worldwide.
Ecommerce and inter-country commerce are some of the fastest growing segments for MSME's and global trade. A 2016 WTO Report also found the vast majority of technology-enabled small firms export—97% of them on average, and up to 100% in some countries. These companies are growing faster than their overall national economies, both in developed and developing countries like China, South Africa, Indonesia, Mexico and Columbia.
HealRWorld's new digital community eCommerce and micro-investment platform concept (currently in development) will offer innovative new products and services that enable sustainable MSMEs to tell consumers and businesses their stories, promote their commitments to social and environmental sustainability and drive sales worldwide, while leveraging existing eCommerce networks like Alibaba, Amazon, eBay and others. Eligible values based companies include those that have either gone through a certification process, or have self-proclaimed commitments to one or more facets of Environmental Social and Governance (ESG) principles and have been vetted through Dun and Bradstreet.
The HealRWorld sustainability database was built upon hundreds of sources including global certification data, web scraping tools, and credit and firmographic data acquired through its strategic partnership with Dun & Bradstreet, whose global database covers over 238 million businesses. Its data has yielded valuable insights including a very strong correlation between HRW Sustainable Businesses and a low risk for business discontinuance and failure, which can be used to increase access to capital to sustainable MSMEs and create better terms by upstream supply chains.
The digital community eCommerce platform will be introduced at ICSB's first-ever Knowledge Summit on May 11 at the UN Headquarters. The summit has been organized to bring together key stakeholders who are committed to actions that will give effect to the UN General Assembly Resolution (A/71/L.60) adopted on April 6 which designates June 27 as "Micro-, Small and Medium-Sized Enterprises Day", and recognizes the crucial role MSMEs play in achieving the 2030 Agenda for Sustainable Development. The Permanent Mission of Argentina to the United Nations, with support from ICSB, authored the resolution that was co-sponsored by 45 member states, representing over 5 billion people. More information about the summit can be found at http://www.icsb.org.
Michele Bongiovanni, CEO, HealRWorld, stated that she is motivated by her "desire to promote conscious capitalism and access to businesses dedicated to People, Planet and Profit. Our global community platform will enable both consumers and businesses to vote with their dollars for a better world and sustainable MSMEs to tell their amazing stories."
Jostein Solheim, CEO of Ben & Jerry's Homemade Inc., which excels at social activism and driving grass root movements, has joined HealRWorld as a new advisor and offered key personnel to help support the initiative. Founder and Chairwoman, Eileen Fisher is also a key partner and role model dedicated to social and environmental sustainability who has supported HealRWorld from its initial launch four years ago at the UN, to serving as a participant of its "17 Campaign" designed to promote the adoption by business leaders, celebrities and philanthropists of the Sustainable Development Goals. Solheim also participated in the "17 Campaign." The global digital community initiative is additionally supported by WPP agency Rockfish, brand advisors Decade Citizen, and Grounded (senior consultants from numerous WPP eCommerce brands) as well as the social movement building organization, Purpose. To learn more about the community platform or to join, please visit http://community.healrworld.com/.
"We believe that the Knowledge Summit is a perfect opportunity for HealRWorld to showcase its sustainability data and platform innovations for attendees and speakers. We also look forward to presenting other initiatives that will help MSME's to thrive and build a sustainable global economy," said ICSB Executive Director, Dr. Ayman El Tarabishy. Some summit sponsors include Egyptian Billionaire, Naguib Sawiris, MasterCard, University of Texas System and Business for the Planet.
About HealRWorld LLC: HealRWorld (http://www.healrworld.com) is a global big data and product platform that aggregates sustainability information (People, Planet and Profit) and credit data throughout the global business ecosystem with a unique emphasis on small and mid-sized enterprises. Founded in 2012, our mission is to help Heal Our World by catalyzing the growth of sustainable business and consumption globally through knowledge and insights, and help direct spending and investment to the small business 'doing well by doing good.'
Founded in 1955, the International Council for Small Business (ICSB) was the first international membership organization to promote the growth and development of small businesses worldwide. The organization brings together educators, researchers, policy-makers and practitioners from around the world to share knowledge and expertise in their respective fields. The ICSB is a non-profit organization, for more information visit http://www.icsb.org.
###