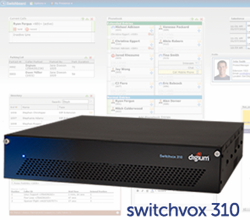 Buffalo, NY (PRWEB) August 09, 2013
VoIP Supply is pleased to announce the availability of the new Digium Switchvox Appliances.
There are four new models available to fit the VoIP system needs of various business sizes:

Switchvox 80: For small businesses that only need a simple desktop solution. Supports up to 30 users and 12 concurrent calls.
Switchvox 310: For medium-sized businesses with a computer rack or shelf space to spare. Supports up to 150 users and 45 concurrent calls.
Switchvox 360: For large businesses looking for a rack mounted PBX. Supports up to 400 users and 75 concurrent calls.
Switchvox 380: Similar to the Switchvox 360 with the same high-performance and redundancy but with additional call handling capabilities. Supports up to 450 users and 100 concurrent calls.
These premise-based appliances work with Switchvox Anywhere, the system that allows users to create a combined cloud-based and on-site VoIP system that's capable of expanding as a business grows.
As a Certified B Corporation, VoIP Supply is proud to offer these new environmentally friendly devices that are manufactured with fewer materials, run more efficiently, and consume less power.
The new appliances are replacing the Switchvox 65, Switchvox 305, and Switchvox 355 which are now end-of-life.
To learn more about Digium Switchvox Appliances, please call a VoIP Expert at 800-398-8647 or, visit http://www.voipsupply.com/manufacturer/digium/switchvox .
About VoIP Supply
We are a place of uncovering, cultivating and developing leaders. A world class place to work with big goals, a clear vision, defined purpose and a dedicated team of passionate business professionals. We love what we do and do it better than any of our competition.
Since 2002, VoIP Supply has been the leading supplier of VoIP equipment and complete VoIP solutions in North America. We are known in the industry as responsive and knowledgeable VoIP product experts.
With everything you need for VoIP, VoIP Supply has grown rapidly throughout the years. VoIP Supply is a three-time Inc. 500/5000 honoree, listed by Business First as one of WNY's Most Admired Companies, as well as one of Western New York's Best Places to Work for many consecutive years, including 2012. VoIP Supply is also the first Certified B Corporation in Western New York.