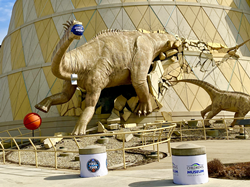 Hoop there it is! Indianapolis is the only place in the world you will you find a 54-foot-long dinosaur dribbling a basketball that is four feet in diameter to welcome fans to the national championship games.
INDIANAPOLIS (PRWEB) March 12, 2021
It's Tourney Time in Indianapolis where the game is so huge, even the dinosaurs got game and they are breaking out of The Children's Museum of Indianapolis to hoop it up! There will be 98 college basketball playoff games in 29 days in the Hoosier Heartland as part of the national college basketball playoffs as the city hosts the entire NCAA Tournament. That's an average of three games per day.
To help families get their own game on, the world's largest children's museum is providing a fun photo opp. with the help of a giant basketball and even bigger dinosaur at the corner of 30th and Illinois in Indianapolis, Indiana. The dinosaur and her little ones even have March Madness health protection face masks covering their snouts. See video here.
After taking a picture to preserve your memory, step inside the museum and dribble over to the Riley Children's Health Sports Legends Experience® to play basketball with hoops of multiple heights. Learn skills and drills and participate in special basketball activities in addition to creating a special dance to celebrate the Big Dance.
The Sports Legends Experience is a 7.5-acre sports utopia that brings multiple generations together to explore a wide variety of sports and fitness activities using uniquely designed equipment to encourage people of all ages and abilities to get into the game.
The museum has partnered with the state's professional sports teams to create authentic playing fields, courts and tracks from football to basketball, hockey, soccer, pedal car racing, golf, baseball, tennis and more that are full of heart-pumping sports and physical fitness experiences. Families will want to plan for a whole day of fun family games at the Riley Children's Health Sports Legends Experience®, which is included with the price of admission to the museum.
Indoors, sports fans will discover the National Art Museum of Sport (NAMOS) featuring the art of and by athletes. Olympic artist LeRoy Neimann is the featured artist this year. The World of Sport exhibit pays homage to the NCAA student athlete and the commitment it takes to succeed in both sports and academics. Some of the basketball art and autographed basketballs will be on display at the Indianapolis International Airport to greet fans who are coming to town for the Men's NCAA Basketball Tournament.
An abundance of dinosaurs and exhibits complete the offerings in this world-class museum. Some experiences include: massive dinosaurs, Barbie You Can Be Anything: The Experience, SUE Meets Bucky, Take Me There:® Greece, National Geographic Treasures of the Earth, American POP, Beyond Spaceship Earth, the Power of Children, Corteva Agriscience ScienceWorks, Fireworks of Glass by Dale Chihuly, Mini Masterpieces, Playscape, Carousel Wishes and Dreams, and All Aboard. Each experience will provide family learning and engaging entertainment for the whole family.
The Children's Museum of Indianapolis is proud to partner with Riley Children's at Indiana University Health, Old National Bank and Ice Miller LLP.
National Art Museum of Sport (NAMOS)
As the nation's top-ranked college basketball teams, coaches, family members and friends fly into Indy for the NCAA Tournament, they will be welcomed at the Indianapolis International Airport with a couple of special March Madness® themed art cases showing unique pieces of artwork from the National Art Museum of Sport (NAMOS). The Children's Museum is home to NAMOS (think museum within a museum). It is home to approximately 1,500 works of art highlighting iconic sport moments and athletes, as well as artwork created by athletes.
About The Children's Museum of Indianapolis
The Children's Museum of Indianapolis is a nonprofit institution committed to creating extraordinary learning experiences across the arts, sciences, and humanities that have the power to transform the lives of children and families. For more information about The Children's Museum, visit http://www.childrensmuseum.org, follow us on Twitter @TCMIndy, Instagram@childrensmuseum, YouTube.com/IndyTCM, and Facebook.