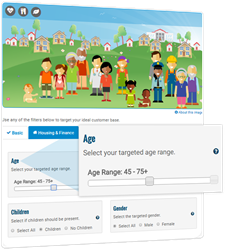 I thought it was so much easier to use. I would give this a nine out of ten.
(PRWEB) November 29, 2016
Nine-time Inc. 5000 company, Taradel LLC, announced today the launch of Personalized Mail, a powerful solution enabling advertisers to build mailing lists and launch turnkey direct mail campaigns, all from one place.
"Advertisers, especially members of the small business community, are turned off by the difficulties associated with direct mail advertising," says Taradel founder and CEO, Jim Fitzgerald.
"Frankly, that's because the existing solutions are designed backwards. They are designed for the databases they serve, instead of the advertisers that use them. We fixed that – and more."
The company's new solution is powered by a proprietary application, dubbed the Visual Campaign Builder (VCB). The VCB helps advertisers target consumers using geographic, demographic, and behavioral data points, while providing a visual representation of the targeted audience in real-time. With simple sliders and buttons, users can effortlessly target the consumers most likely to purchase their products and services.
"Ninety percent of information transmitted to the human brain is visual, so to provide that extra context, it really improves the entire list-building and mailing process for advertisers," says Chris Barr, director of marketing for Taradel. "For example, if a pediatrician targets households with children, you'll see kids appear next to the adults on the screen. It works like magic."
After targeting the right audience, advertisers can immediately purchase and download the mailing list. For those who wish to launch a complete direct mail campaign, Taradel provides creative, printing, direct mail fulfilment, and delivery services via the USPS®.
Based on feedback from independent user testers, Taradel's Personalized Mail solution scores significantly higher than existing alternatives such as InfoUSA, SalesGenie, and PostcardMania.
"It was so much faster," said one user tester, a thirty-eight year old female who describes herself as an average web user. "I thought it was so much easier to use. I would give this website, probably, a nine out of ten."
For more information on Personalized Mail, visit http://directmail.taradel.com/Personalized-Mail-Overview
About Taradel:
Taradel is a full-service marketing firm and perennial Inc. 5000 company. Our mission is to make marketing easy by re-thinking existing marketing platforms, developing better solutions, and providing advertisers with affordable, agency-quality results. For more information, visit http://www.taradel.com.