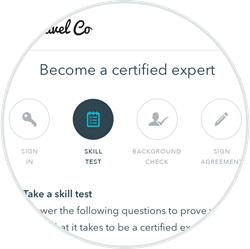 Based on the success of our work with Directly, we are really excited to take the next step: the certified experts program.
San Francisco, CA (PRWEB) February 23, 2016
Directly, provider of on-demand customer service apps, is expanding customer service efficiency with its latest feature: certified experts. Available today, this new capability lets companies send a high volume of customer inquiries to their expert users and arm these experts with the tools and information they need to solve complex cases.
Companies typically handle customer support by hiring armies of inexperienced workers, training them and enduring high turnover. Or they outsource these critical brand interactions to third parties with similar challenges.
By contrast, companies like Airbnb, Pinterest and Republic Wireless use Directly to scale online support by routing customers questions to their expert users, who earn rewards by resolving the questions.
Unlike hourly call center workers, the experts know and love the products already, and they answer questions on demand, where and when they want to. This method delivers significantly faster response times, 4 minute average compared to hours or even days using traditional methods, and high customer satisfaction ratings of 92% average.
Now, with Directly's certified experts capability, companies can expand the types of questions experts can handle to include ones that require account access, like order inquiries.
"We're aiming to increase the cases that a company's experts can solve, so that more and more of their problems are being solved by their passionate and knowledgeable users, and customers can receive the highest quality care," said Directly CEO Antony Brydon.
Directly crunches large amounts of data to identify a company's top-performing experts based on customer satisfaction and response time. A company can then invite those top-performers to earn certification by taking additional tests and passing third-party background checks.
Once experts earn certification, Directly dynamically routes to them the questions that best match their skills. When they elect to answer questions, the certified experts can access additional, screened account information and tools to resolve them.
As part of its overall mission to innovate the entire consumer wireless business model, Republic Wireless has been using Directly for over a year to empower enthusiastic, expert customers to earn cash rewards through the Directly app for resolving other customers' questions submitted to the Republic Wireless helpdesk. The expert program has delivered extraordinarily fast response times averaging 2.9 minutes.
To date, the experts have resolved "how-to" questions, like how to adjust phone settings. Now, with Directly's certified experts, Republic Wireless can let some experts earn additional certification to answer more complex questions that require advanced trouble-shooting skills.
"Based on the success of our work with Directly, we are really excited to take the next step; the certified experts program ensures that the best experts have the tools that allow them to handle certain escalated levels of tickets," said Jonathan Keane, director of customer service at Republic Wireless, a nationwide, wifi-first smartphone service based in Raleigh, North Carolina.
For more on how Republic Wireless uses Directly and certified experts to support new product launches, join this live webcast on February 25 at 2 p.m. EST / 11 a.m. PST. go.directly.com/republic-wireless.
###
About Directly
Directly makes on-demand business apps. Fast-growing companies like Pinterest, Airbnb and Republic Wireless use our customer service apps to scale support and improve customer experience. Expert users get a smart way to help others, share in the rewards and work on their own terms. Customers get expert help in minutes. Directly integrates with Zendesk, Oracle RightNow, Desk, Salesforce Service Cloud and other leading helpdesk software.