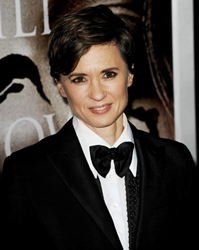 It always amazes me the level of talent we have each year, ranging from film entries in the festival to the caliber of accomplished actors, stunt workers, directors, and more that are worthy of recognition. Artemis is proud to announce Kimberly Peirce and Levy Tran as Fifth Edition AWIAFF honorees!
BEVERLY HILLS, Calif. (PRWEB) April 12, 2019
Artemis Women in Action Film Festival is proud to honor Kimberly Peirce with the Artemis Action Unsung Heroine Award for using her unique voice and talent to create stories about people not typically seen in film.
Kimberly Peirce staked her place as a writer and director of singular vision and craft with her unflinching debut feature BOYS DON'T CRY (Hilary Swank, Chloë Sevingy, Peter Sarsgaard), which earned numerous honors including the Best Actress Oscar and Golden Globe for Hilary Swank, and Oscar and Golden Globe nominations for co-star Chloë Sevigny. Swank also took home Independent Spirit, NY and LA Film Critics, and National Board of Review Awards. Sevigny won the Independent Spirit Award and LA Film Critics awards for Best Supporting Actress. Since then, Peirce went on to win countless awards internationally. She subsequently co-wrote and directed STOP-LOSS (Channing Tatum, Joseph Gordon-Levitt, Abbie Cornish, Ryan and Phillipe), a drama with true accounts about American soldiers (including her brother) who fought in Iraq. Other films Peirce directed include CARRIE (Julianne Moore) and upcoming productions THIS IS JANE about an underground abortion ring. Her long and impressive list of cable TV shows include AMERICAN CRIME, SIX (for which she won a Women's Image Award), and others.
A tireless activist for human and civil rights, Kimberly is proud to be a Governor of the Academy of Motion Pictures Arts and Sciences and head of the Diversity Committee, as well as Executive Board member of the Director's Guild of America. She is also a founding member of REFRAME, an industry-wide effort to end discrimination against women and people of color behind and in front of the lens.
Artemis Women in Action Film Festival is proud to honor Levy Tran with the Artemis Action Next Wave Award.
As an actress Ms. Tran has worked with Regina King, William H Macy, James Wan, Michelle Rodriquez, Vin Diesel, Jared Leto, and more. Since her debut on THE FAST AND FURIOUS, Ms. Tran has gone on to work on recurring roles in THE HAUNTING OF HILL HOUSE (Netflix), and SHAMELESS (Showtime). Born in San Jose, California, to Vietnamese parents, she says she's proud she can represent the Vietnamese community in her current role as a former military operative on MACGYVER (CBS). Because of Tran's martial arts training: eskrima, Muay Thai, boxing, and Jiu Jitsu.
Ms. Tran's journey into acting was unconventional. After working as a kindergarten teacher, she studied to become an embalmer. But her embalming supervisor saw something special in her and told her, "You work with death every day. Go live life, and if it doesn't work out then come back, but for now . . . go live your life." And she certainly has.
In previous years, the Artemis Women In Action Film Festival has honored women and men who have exhibited strength in character and/or physicality both on the big and small screen. Past honorees have included actors Tom Cruise, Melissa McCarthy, Michelle Rodriguez, Linda Hamilton, Nichelle Nichols, and Ming Na-Wen; stunt honorees Zöe Bell, Andy Armstrong, TJ Scott, and Debbie Evans; and directors Rosemary Rodriguez and Paul Feig. Feig first presented AWIAFF in its Fourth Edition (2018) and now for the Fifth Edition (2019).
Spreading the word to prevent bullying, AWIAFF 2019 Host Chase Masterson (STAR TREK: DEEP SPACE 9, DOCTOR WHO, VIENNA) will moderate the Panel Discussion – WONDER WOMEN: JOIN THE REAL-LIFE JUSTICE LEAGUE, sponsored by Pop Culture Hero Coalition, discussing how film, comics, and TV can propel us to create a better planet. Chase Masterson is the Founder & CEO of the popular 501 c3, which is supported by the United Nations. Panelists include KT Curran (writer/director), Trisha Nicolas (founder Dream2Reality, Inc. and Sr. Producer of SNAP). The Panel will be held on Sunday, April 28, 2019, at 10:00 AM at Santa Monica Laemmle. (Visit: http://www.artemisfilmfestival.com/2019-festival/sunday/)
The Artemis Women in Action Film Festival (AWIAFF) is the first film festival dedicated to female action and empowerment heroes. Our fifth edition will occur April 25 - 28, 2019, in Beverly Hills and Santa Monica, CA. Our mission is to both entertain and to influence the awareness of the dynamic and powerful roles women play in society and culture throughout the world. The festival kicks off with our yearly celebration to recognize industry luminaries, pushing the needle for female action and empowerment onscreen.
The Artemis Awards Gala is held at the Ahrya Fine Arts Theater
8556 Wilshire Blvd., Beverly Hills, CA on Thursday evening, April 25, 2019.
Time: 6:45 - 7:30 PM Red Carpet Interviews/Photo Ops; 7:30 - 10:00PM Awards Gala
(Contact sean(at)firsttakepr.com)
Kimberly Peirce and Levy Tran join this year's honorees Daniele Ruah (NCIS: LA, HAWAII FIVE-0, RED TAILS), stuntwomen Jeannie Epper (WONDERWOMAN, HOT PURSUIT, BOOK OF ELI), Melissa R. Stubbs (SUICIDE SQUAD, DEADPOOL, JASON BOURNE), Shauna Duggins (GLOW, PEPPERMINT, CAPTAIN AMERICA: THE WINTER SOLDIER); Lisa Hoyle (ONCE UPON A TIME IN HOLLYWOOD, SNATCHED, ARRESTED DEVELOPMENT); Mahsa Ahmadi (Z NATION, HEATHERS, SKYFALL), Crystal Michelle (BLACK PANTHER, CAPTAIN MARVEL, AVENGERS: INFINITY WAR) and Dejay Roestenberg (JESSICA JONES, THE FOLLOWING, OA).
SPONSORS:
The New York Film Academy, Asis Financial, and The Chimera Project join AWIAFF sponsors Paul Feig, AGENDA, Bella Composers, Action Factory, Santa Monica Audi, Final Draft; Santa Monica Daily Press, Actors Guru, Entertainment Partners; Women In Film, Habibi Sport, InkTip, Asis Financial, Matt's Marketing and PR, Pop Culture Hero Coalition; Curator Magazine, AXTionWear, Backstage, and Array Entertainment.
ABOUT:
The Chimaera Project recognizes the collective voice as a catalyst for social change. We are dedicated to empowering filmmakers who identify as female to fearlessly create, inspire and lead! • Our goal is to create change by demonstrating an inclusive model. - • We believe that all individuals have the ability to transcend traditional ideas, rules, patterns, relationships and create. It is our belief that only when people from different life experiences and points of view are given a chance to express themselves can we really create change. https://chimaeraproject.org/
The New York Film Academy (NYFA) is a leading visual and performing arts school that offers hands-on intensive programs across 15 areas of study in New York City, Los Angeles, South Beach/Miami, Gold Coast (Australia), Florence (Italy), and more. Thousands of aspiring artists come to study at the New York Film Academy each year from over 120 countries. For more information, please visit nyfa.edu.
ASIS Entertainment Insurance is your one-stop shop for: Production Insurance, E&O Insurance, Rental Houses, Special Events, and Life Insurance. Because insurance problems are one kind of excitement you don't need. Find out more about ASIS Entertainment Insurance: http://asisfinancial.com/