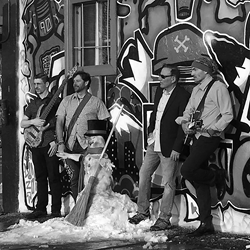 LOS ANGELES (PRWEB) September 06, 2019
The last time you heard about a new rock 'n' roll artist debuting, it was probably back in the 90s. Like most genres, rock 'n' roll has been modernized and transformed to the point that true rock 'n' roll rarely exists among today's artists. Fortunately for fans everywhere, Colorado-based band Dirty Snowman Society is bringing rock 'n' roll back to the 21st century with their debut single, "Taste of Heaven."
"Taste of Heaven" is a breath of fresh air for those missing the vibe of classic hard rock. Frank Costantini's vocals flow smoothly with the instrumentals, while Jonnie Law's lead guitar riffs steal the show during an instrumental break. Patrick Linfante adds a compelling, deep bassline, while Chris Todoroff doubles on guitars and percussion. For music fans looking for that familiar tone of 70s-90s rock 'n' roll, "Taste of Heaven" hits the spot.
Dirty Snowman Society started off when four musicians from Colorado realized that they missed the classic hard rock sound that used to be so familiar and popular. Todoroff, Law, Linfante, and Costantini all come from unique backgrounds, but fortunately, they are on the same page when it comes to rock music. The band has created a fresh, approachable, and yet nostalgic sound that resonates with rock fans.
"Taste of Heaven" is only the first single to drop and is the beginning of Dirty Snowman Society's rise to the top. It was recorded at Side 3 Studios in Denver, CO, and Chapter 2 Studios in Breckenridge, CO. Produced by Brian Jones at Bangworld in New York, NY, and mixed/mastered at Bangworld Studio.
Listen to "Taste of Heaven" on all major platforms here.
About Dirty Snowman Society
Dirty Snowman Society is a rock band based in Copper Mountain, CO. The four-piece band consists of Frank Costantini on vocals, drums, and percussion, Jonnie Law on lead guitar, Patrick Linfante on bass, and Chris Todoroff on guitars and percussion. The band came together from very diverse backgrounds, they've held jobs such as Emmy-winning TV director and best-selling author, a touring metal band member, ski and surf instructor, and successful lawyer. The glue that holds them together is the desire to make the kind of classic hard rock that inspired them to become musicians. Follow Dirty Snowman Society on Facebook for more information.