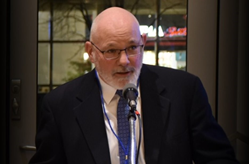 "It is time to accelerate the diversification of the call center workforce. Using individuals with disabilities through remote work is a key component to this solution. Managers need to know this." -Alan Hubbard
BOSTON (PRWEB) March 04, 2019
The 2019 Remote Working Summit from Customer Contact Strategies will be held in Dallas, TX March 4-6. Industry professionals will gather to discuss best strategies and practices for remote employee success. Over 30% of the world's workforce does at least some work from home, with the U.S. having the highest number of at-home workers.
Alan Hubbard, COO of NTI, will present at the Remote Working Summit. For more than 20 years, NTI has partnered with businesses interested in the benefits of inclusion and an at-home workforce. NTI works exclusively with Americans with disabilities who need to work from home. When asked about his involvement at the summit, Hubbard responded, "With unemployment at an all-time low, it is imperative that call center managers find quality resources for retention and growth without sacrificing quality. It is time to accelerate the diversification of the call center workforce. Using individuals with disabilities through remote work is a key component to this solution. Managers need to know this."
Hubbard will share how NTI's unique business model employs altruism and Americans with disabilities to benefit the bottom line of the modern contact center. Hubbard's presentation will include information about how and why NTI trained agents have attrition rates up to 35% lower than average. In addition, he will touch on the benefits of a nationwide employee base and flexible scheduling, both available through NTI's services.
To learn more about NTI, visit them online at http://www.nticentral.org or call Michael Sanders at 857-772-7614.
About NTI: National Telecommuting Institute. Inc (NTI) is a 501 (c)(3) (http://www.nticentral.org) non- profit organization with headquarters in Boston, MA. NTI has been supporting Americans with disabilities since 1995. NTI provides training and job services in work at home positions across the U.S. through the NTI@Home and LandAjob.org programs. NTI pioneered staffing virtual call centers with Americans with Disabilities, including Disabled Veterans, who work from home.
About Customer Contact Strategies: Founded by customer care executive Michele Rowan in 2009, CCS facilitates public conferences and workshops on remote working strategies and best practices for contact centers and support functions. They offer consulting on design and expansion of work at home programs.