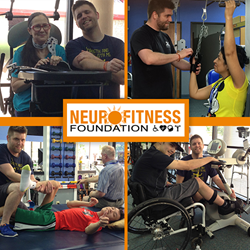 We want to support everyone with the opportunity to be healthy and safe within their skin...New equipment will help individuals with the chance to feel like themselves once again
Fort Worth, TX (PRWEB) August 16, 2017
ProVest Insurance Group, a nationwide firm offering full service insurance assistance and financial planning consultations, is announcing a joint charity initiative in cooperation with the Neuro Fitness Foundation with the goal of funding a rehabilitation and workout center for physically impaired residents of North Texas.
Neuro Fitness Foundation (NFF) offers disabled North Texas residents with access to unique and therapeutic workout programs and equipment that exercise both the mind and the body. The charity event will last through the summer, and will concentrate on raising funds to secure a Rickshaw machine which helps provide upper body strengthening for individuals who use wheelchairs.
"We want to support everyone with the opportunity to be healthy and safe within their skin...New equipment will help individuals with the chance to feel like themselves once again," says Jay Adkins, owner and acting director of the ProVest Insurance Group.
Current efforts to generate public support for the charity event and acquire funding for the Rickshaw machine involve online outreach programs intended to attract families and business owners via social media and email channels. Additionally, the ProVest team will be featuring a full page article discussing NFF and the charity drive in a new issue of "Our Hometown," a local interest webzine produced monthly by the firm: http://provestinsurance.com/magazines/.
Charities and nonprofits in Texas, Florida, and North Carolina have all benefitted from the assistance of ProVest Insurance over recent months. Adkins and his team are committed representatives of the "Agents of Change" charity support web, and have announced that the firm will be launching new charity drives on a bimonthly basis.
Adkins and the ProVest Insurance team have made the following page available for any readers who would like to be part of the North Texas charity event to assist the Neuro Fitness Foundation in acquiring a new Rickshaw machine: http://provestinsurance.com/causes/providing-opportunity-for-all/. http://provestinsurance.com/causes/providing-opportunity-for-all/. New charity events sponsored by the ProVest team will be announced in the firm's Community Causes listing: http://provestinsurance.com/community/.
About ProVest Insurance Group
ProVest Insurance Group's mission as a team is to provide the best insurance and financial services in the industry. Their number one job is to protect the current assets clients have worked so hard for, and to help them invest so they can retire with the right amount of money. ProVest's success is measured by customer satisfaction and the value they bring. The capable agents at ProVest can be easily reached at 1-855-298-7427.