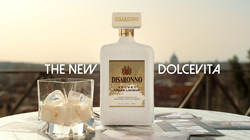 "Last year, we saw great popularity with Disaronno Velvet with spirits drinkers and thus have executed cross promotions in partnership with other major spirits brands to launch cocktails that illustrate the versatility of this product."
NEW YORK (PRWEB) November 15, 2021
Disaronno International announced today a $3 million advertising spend to highlight Disaronno Velvet Cream Liqueur within the "The New Dolce Vita" campaign from November 15th to December 31st. The campaign will run on streaming platforms and social media during these 7 weeks and is expected to garner 167 million impressions from spirits drinkers around the country. Disaronno continues to make the strategic decision to run the commercial entirely on digital and social to reach their target audiences through a bold, multi-platform approach across different touch points.
Elegant yet lighthearted, the "The New Dolce Vita" commercial stars Disaronno Velvet and showcases a modern, cosmopolitan sensibility that keeps in line with Italy's timeless style. The commercial depicts a sophisticated black and white rooftop terrace setting in Rome, until the final scene which transforms the commercial into full color revealing Disaronno's contemporary all-white bottle design as '"The New Dolce Vita' – once again bringing Disaronno's timeless style and unmistakable flavor into the modern world. Disaronno Velvet was launched in 2020, blending the distinctive flavor of Disaronno with the richness of a velvety cream. The "New Dolce Vita" can be viewed here.
"We are excited to continue to support this media campaign featuring Disaronno Velvet throughout the holiday season," says Ignacio Llaneza, Vice President of Brand & Trade Marketing for Disaronno International. "The New Dolce Vita" brings to life the sophisticated and elegant qualities of Disaronno Velvet with a beautiful backdrop of Rome, Italy. Last year, we saw great popularity with Disaronno Velvet with spirits drinkers and thus have executed cross promotions in partnership with other major spirits brands to launch cocktails that illustrate the versatility of this product."
Last summer, Disaronno International originally launched this media campaign with a $2.5 million advertising spend that garnered 138 million impressions from spirit drinkers around the country. The commercial will be seen on social media channels Instagram and Facebook. The commercials will air in the USA during June and July on YouTube and multiple streaming platforms and networks including NBC, CBS, ABC, Univision, FOX, HGTV, ESPN, Bravo, BET, TBS, USA, CNN, MTV, TNT, Food Network, The Weather Channel, AMC, BBC America, BET, CMT, Comedy Central, Cooking Channel, Discovery, DIY, E!, Freeform, HGTV, History Channel, ID, IFC, Lifetime, MSNBC, OWN, Oxygen, Reelz, TBS, TLC, TNT, Travel Channel, TV Land, USA Network, VH1, Vice and more.
DISARONNO®
Disaronno® is the world's favorite Italian liqueur. Featuring an original taste and unmistakable aroma, Disaronno stands out on the world stage with distribution in more than 160 countries. The Disaronno bottle has a unique design and a cap, which lends elegance and modernity, embellished with a golden label that enhances its contemporary style. Disaronno is a pleasure to enjoy on the rocks as well as in its various mixed drinks, including the new Disaronno Fizz. Recognizable and versatile, it makes every cocktail one-of-a-kind.
http://www.disaronno.com
https://www.facebook.com/Disaronno
https://www.instagram.com/disaronno_official/
About Disaronno International
Disaronno International is a subsidiary of Illva Saronno SpA, a leader in the global wine and spirits business. Disaronno International has always centered on the values of heritage, innovation, and quality. The company's heritage dates back to 1525 with the creation of Disaronno Originale, and today has grown to include 7 distinct brands with 31 unique products. Disaronno International is the exclusive importer and marketer of Disaronno Originale – the world's favorite Italian liqueur, Disaronno Velvet, The Busker Irish Whiskey, Tia Maria Coffee Liqueur, Tia Maria Matcha, EnGINe Gin, Rabarbaro Zucca Amaro, Duca di Salaparuta & Corvo, and Florio Marsala.
For more information, visit http://www.disaronnointernational.com.