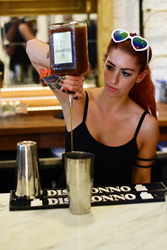 NEW ORLEANS (PRWEB) July 27, 2018
Disaronno, the world's leading Italian liqueur, officially launched the "Mixing Star Bar Tag" series on Thursday, July 19th and Friday, July 20th during the Private Salon Experience at Tales of the Cocktail 2018. The Bar Tag series featured "Startenders" from around the world including Yael Vengroff from The Spare Room, winner of Best American Bartender of The Year from the 12th Annual Spirited Awards.
With the mission to promote the exchange of different mixing style and culture, Mixing Star Bar Tag brought four "Startenders" from around the world together who shared their signature Disaronno cocktails: Dev Johnson from Employees Only, New York City; Tess Posthumus from Flying Dutchmen Cocktails, Amsterdam; Flavio Angiolillo from Iter, Milan; and Yael Vengroff from The Spare Room, Los Angeles. To highlight their exclusive Disaronno cocktails, Mixing Star has created four exclusive limited-edition "Mixing Star Bar Tag" cards. With only 1000 printed, each card features a bartender and his or her original Disaronno cocktail and recipe.
During Disaronno's two-day event hosted at Salon Restaurant by Sucré, guests also enjoyed Tia Maria Academy's signature coffee cocktails and seminars featuring Zucca and Disaronno hosted by top industry experts including Camper English and Simon Difford.
About Disaronno:
Disaronno is the world's favorite Italian liqueur. Featuring an original taste and unmistakable aroma, it stands out on the world stage with distribution in more than 160 countries. The Disaronno bottle has a unique design and a cap, which lends elegance and modernity, embellished with a golden label that enhances its contemporary style. Disaronno is a pleasure to enjoy on the rocks as well as in its various mixed drinks, including the Disaronno Sour. Recognizable and versatile, it makes every cocktail one of a kind.
http://www.disaronno.com
About The Mixing Star and the Bar Tag:
The Mixing Star is the Disaronno project dedicated to the bartender community.
After many years of international competitions to show the mixability of Disaronno, now The Mixing Star has transformed to Innovation Hunter, a social media based "exploration" with a mission: identifying innovative trends in mixology, finding movers and shakers in the field around the world, filming and sharing them with the community of bartending experts.
The Mixing Star Bar●Tag is a new exciting program to promote the exchange of different mixing culture and style. The calendar is reach of events and will s among the world's top bartenders to whom Disaronno has dedicated a card collection printed in only 1000 copies each. The hunt is open…
http://www.instagram.com/themixingstar/; http://www.facebook.com/TheMixingStar; http://www.youtube.com/mixingstar