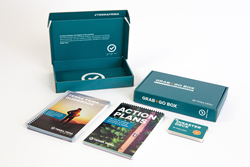 "When a natural disaster happens what do people want most? They want to know exactly what to do. They want to know how to calm down and make sure their family is safe. And they often wish they'd done more to be fully prepared. The Grab + Go Box gives us all of that," says CEO, Allison Barnard
BEND, Ore. (PRWEB) August 08, 2019
When founder and CEO, Allison Barnard, first researched disaster preparation, she found scattered resources that were outdated, contradictory, cumbersome, and intimidating. She wanted to learn about major disasters in a single, consistent, and digestible way. The product she needed wasn't out there. So she created it.
"Gear simply isn't enough. When a natural disaster happens what do people want most? They want to know exactly what to do. They want to know how to calm down and make sure their family is safe. And they often wish they'd done more to be fully prepared. The Grab + Go Box gives us all of that. We create products the world has never seen for disaster resilience and they work," says Barnard.
The Terra Frma Grab + Go Box, a small box that lives on a bookshelf, is the first disaster preparedness and recovery kit in the nation for all natural disasters in the U.S., including earthquakes, hurricanes, flooding, wildfires and more. The system combines steps from disaster experts and gear recommendations with advice from survivors and emergency responders into one single product. The Terra Frma Grab + Go Box guides customers on how to stay safe during a natural disaster and supports a more successful recovery, both physically and emotionally, when the emergency has ended.
Terra Frma's Grab + Go Box retails for $98 and is available online at http://www.TerraFrma.com. Products inside the Terra Frma Grab + Go Box include:
Terra Frma Guidebook: a simple, step-by-step process that guides you through preparedness for your home, family and pets as well as how to recover from an event
Action Plans and Drill Card: steps for adapting in a real-time event, practicing, evacuating, and being emotionally well during any disaster
Disaster Deck: a pocket-sized set of plastic cards with critical steps for all natural disasters to take to stay physically safe when away from home
Wellness Guidance: sections included in each product that support you emotionally before, during and after a natural disaster
Terra Frma's Grab + Go Box purposefully does not rely on electricity, the internet or other communication lines because those are often down during a natural disaster.
Allison Barnard is a trained and certified life coach specializing in resistance and resilience. She intends to revolutionize the way communities approach disaster preparedness. The more individuals who are prepared, the more resilient communities become.