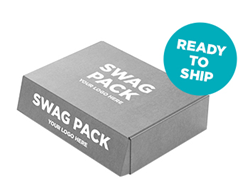 MIAMI (PRWEB) March 29, 2021
DiscountMugs.com, the leading supplier of promotional products in the U.S., announces a new offering to help businesses drive brand awareness and engagement with customers and employees working from home. With the company's new "Swag Packs," businesses can reward loyal clients and customers by sending unique assortments of custom branded promotional products to individual addresses.
Specific items within each of these promo kits can be customized with a company's logo or name. The products in each swag pack consist of various promotional items from notebooks to t-shirts and mugs and beyond, all carefully packaged inside great looking boxes delivered to individual addresses, making it very convenient for companies to engage with customers, employees, or other stakeholders working remotely.
Swag packs lend themselves to different types of occasions including but not limited to: customer appreciation, employee motivation, virtual parties, and virtual trade shows. They can also be used as a thoughtful welcoming gift for staff members onboarding remotely.
Given the continued trend towards virtual work settings, companies need to find creatives ways to foster relationships remotely, and DiscountMugs' Swag Packs present a practical and effective solution for the evolving work environment.
More About DiscountMugs.com
Based in Medley, Florida, DiscountMugs.com is one of the largest online providers of promotional products in the United States. The company's proprietary online design lab allows customers to easily design their own custom promotional products—including mugs, t-shirts, hats and many more categories—and have them delivered in as little as one week.
DiscountMugs.com's vertically integrated supply chain is unique in the industry, allowing it to side-step intermediaries and pass along savings to customers. Contact DiscountMugs.com today or call 800-579-7152 to learn more about how custom promotional merchandise can help your business.